So here's the dilemma: we all want to eat healthy, but sometimes it's just impossible to cook food at home every day. I came across your blog and this article and thought I would reach out to you to see if "Hi, I'm Skinny is something you'd like to review.
I was just wondering what you would recommend for quick and easy meals that can be taken to university?
When I was in college, I never cooked and it was really hard for me to figure out which snacks were the healthiest to eat.
Applesauce – another great way to get your daily serving of fruit in a non-perishable way. Rice Cakes with Almond Butter – try brown rice cakes, they have 2g fiber and 60 calories per cake, with 1 Tbsp almond butter that's a 160 calorie snack!
0% Greek Yogurt (like from Chobani) topped with honey and nuts or cereal – one container of greek yogurt is 80-90 calories and has 14g protein.
Sprouted Wheat bread with 1 Tbsp almond butter and sliced bananas (optional) – About a 250 calorie snack depending on whether you add banana or not.
Shelf Stable Soups – a great way to get your serving of vegetables, and they last FOREVER unopened.
Lara Bars and CORE Foods Bars – Both of these protein bars are made with all natural ingredients, are extremely delicious and low in added sugars. Ginger Chews – A great substitute for sugary candy, 2 pieces will run you only 40 calories and have only 5g sugar each. I totally agree with you about popcorn – if you season it with spices and a bit of salt (vs. Plain Instant oatmeal with no sugar added (the flavored kinds have tons of sugar) is a perfect option! And yes, it's nice that you still have a few years before you have to think about your daughter going to college! Seeing as I can't find The Good Bean around here but saw roasted chickpeas at Ethnic foods stores: Do you know how these compare? And when I traveled as a consultant post-college, I was always on the go and didn't want to survive on airplane or airport food all the time.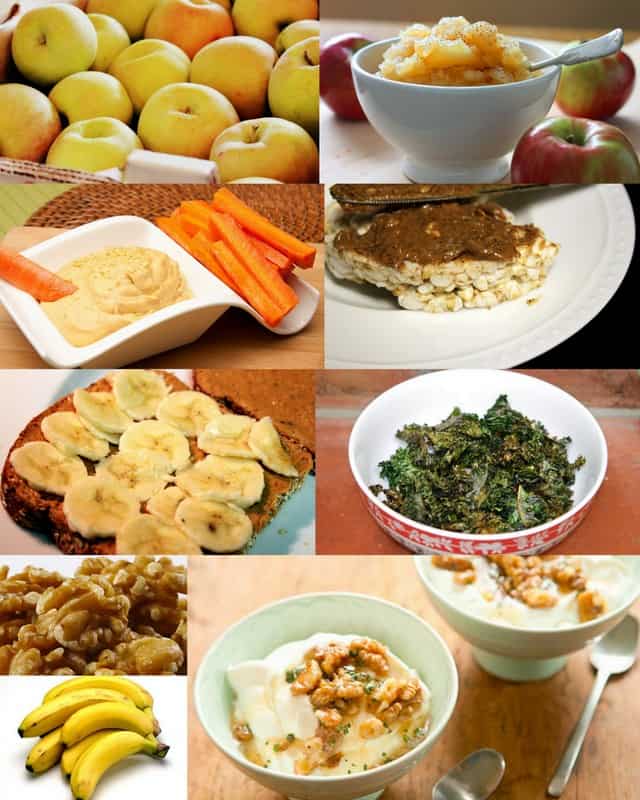 Add 1 Tbsp honey and a handful of cereal or nuts, and you're looking at a 200-250 calorie nutrition packed snack. Once you open them, you just need to use them within 10 days which is totally doable, and they are delicious. Lara bars make a great snack or dessert substitute, while CORE Foods act more like a meal replacement (they keep you full for 4 hours, have 350-390 calories, 6-8g fiber and up to 18g protein).
But if they are roasted with minimal oil, then they should be pretty close to The Good Bean! So as for quick and easy meals to take on the go, I'd recommend sandwiches, salads and wraps that you make at home and then take with you.
I'm a Board Certified Health Coach, wife, mom, and food lover from the SF Bay Area (now living in Ann Arbor, MI!); with a passion for delicious food and a desire to make healthy eating easy, tasty, and fun!