We're currently halfway through the Tabasco Challenge, and I hope everyone is enjoying these recipes as much as I am. I was determined to not end up with five recipes that more or less tasted the same; having such a limited list of ingredients to work with really forced me to play with different grains and greens in order to come up with unique flavors.
Although this smothered chicken and quinoa skillet follows as similar format (chicken+whole grain+tomato+Tabasco) to the chicken and faro that I posted the other day, the two dishes taste completely different.
Love this recipe I added 1 small can mild diced green chilies, added lots of flavor and no added heat.
Love this recipe, I added 1 small can diced green chilies – gives awesome flavor without added heat. It was definitely a challenge to get such similar dishes to taste different and not just all Tabasco sauce.
Now, we try to make it out the Tanglewood to listen to the BSO at least a few times every summer. I love this, would actually be perfect to make up a big batch and eat for lunch during the week.
If you can't get your children to eat vegetables especially broccoli, then this clever and easy recipe is your answer.
The cheddar broccoli quinoa bites is just delicious enough that your children won't even dare to ask what's in their food, because they'd still be too busy eating the delicious treat.
By posting this recipe I am entering a recipe contest sponsored by the California Raisin Marketing Board and am eligible to win prizes.
Where the farro recipe has a rustic Italian feel, this cheesy chicken dish is full-on Mexican.
I would recommend boiling the quinoa for 15 minutes before pouring it in the pan with the chicken and veggies. As you can imagine, this can be a challenge, with so many people with food allergies in this day and age. We  headed away from the crowds on the Mall and brought a picnic to Wolf Trap, where we listened to the NSO and watched fireworks. It holds up well (it doesn't get soggy like green salads) and it tastes even better at room temperature than it does chilled. In fact, I have a cucumber in the fridge that needs using up, so I might just whip up a batch tonight! Use of this Web site constitutes acceptance of our Terms and Conditions of Use and Privacy Policy. I actually based it loosely on my recipe for pollo fundido, adding quinoa to bulk it up and make it seem like more of a complete meal.
I did have to keep adding water to the skillet to get all the quinoa to cook; so much of the quinoa stuck to the chicken when I dumped it into the pan.
That's one of my favorites, but I was only allowed to use the original red one for the challenge. I love the idea of this skillet, it looks so comforting and kind of like a chicken casserole dish! Cover and refrigerate at least 30 minutes. Meanwhile, prepare the vinaigrette by mixing together the lemon juice, vinegar, shallot, garlic, and mint. While you could certainly scoop this up with tortilla chips, it absolutely isn't necessary.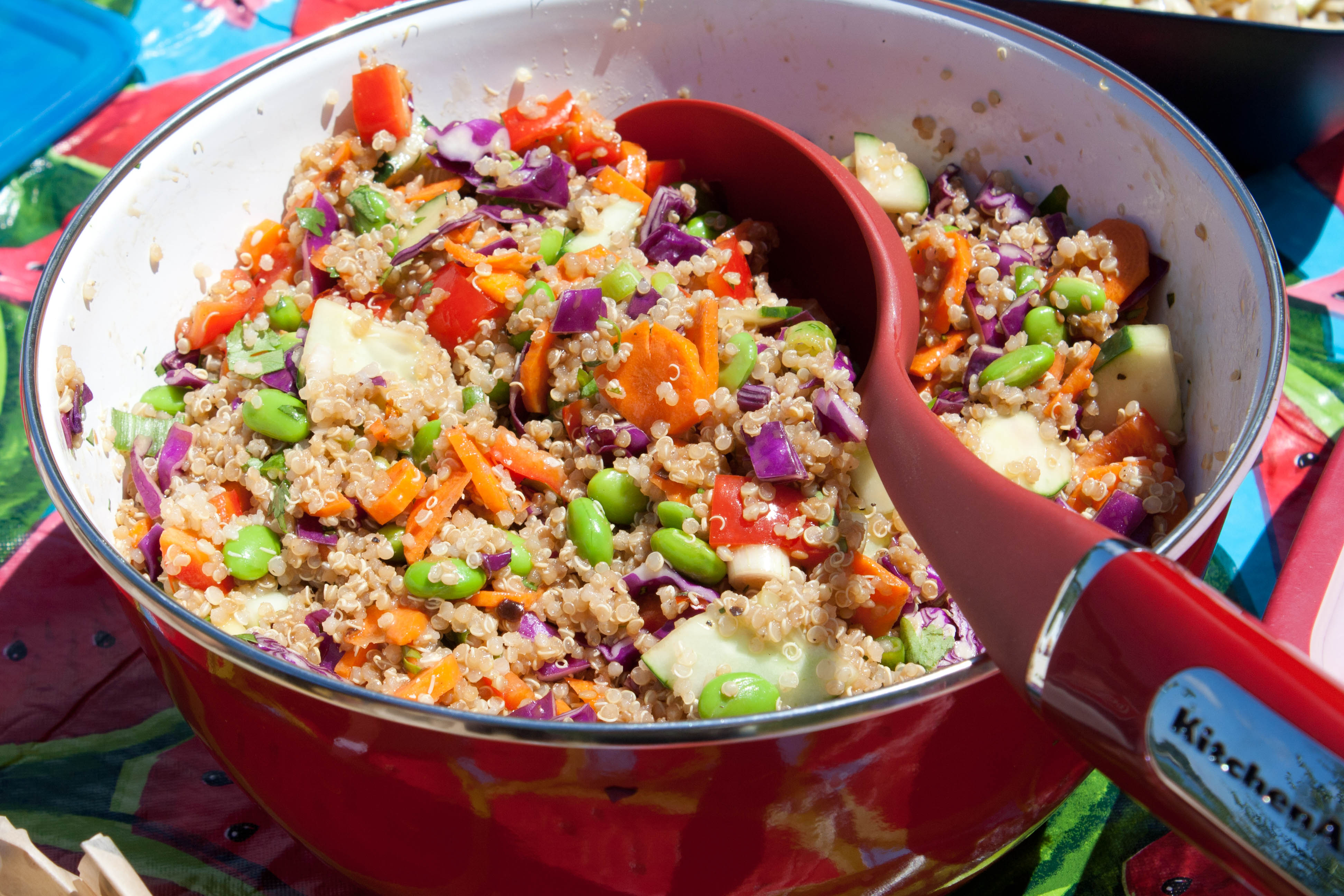 But next time, I think I could fix that by adding the uncooked quinoa to the bowl where I mixed in the beans, tomatoes, and water. When I was a kid, we packed a picnic every week and went to free concerts on the lawn of some of the old mansions along the Hudson River. Scattered throughout the salad are marcona almonds – one of the most delicious nuts I've ever come across. Follow the #SundaySupper hashtag and remember to include it in your tweets to join in the chat.
There are usually anywhere from 2-5 varieties of yellow onions at the store depending on the time of year.
Season with sea salt to taste. Just before serving, sprinkle the kale with a little sea salt. Also, i would simmer on low heat so that you don't cook out the tomato or tomato juice. I used half the tomato can and saved the juice for when the dish was almost ready then used the other half of the can and poured the juice on top to let it simmer for about 5 minutes.
I also used the chipotle tabasco as neither my hubby or myself can stand the original tabasco. And I ended up using queso panela because when I went to get the cheddar out of the fridge, I found out my hubby taken the whole block to work for his lunches,lol.