The last time I made a fun snack with our preschool group they all LOVED it so I thought I would start us off with some fun food Christmas snack this time around.
This healthy fun food is also great for a teachers to enjoy with their students because it doesn't involve a stove.
Subscribe to our weekly newsletters and receive a 12 month Family Time Planner & Ideas for free! Michelle Maffei is a freelance copywriter covering a variety of topics both online and in print, from parenting to beauty and more. Holidays and sweets go hand-in-hand, but with ideas that are so easy that your kids can pitch in you'll be inspired to whip up a whole batch of Christmas treats for your youngster's fellow school mates!
For those who love to combine crafting with treats, these classroom Christmas treats inspired by a personaltouch's blog post are the best of both worlds!
Fill treat bags with several Whoppers candies for reindeer noses and one red gumball to represent Rudolph's nose. Fold down the treat bag, fold the cardstock in half horizontally and staple to the top of the treat bag to secure and start spreading the jolly with these cute holiday classroom treats!
Be sure to get your youngsters involved in making these no-melt marshmallow snowman treats when you whip up these classroom Christmas treats found on flexibledreams' blog post!
For the face, dab two dots of candy melts for eyes and a thin smile; secure Tic Tac with a dot of candy melts as well. For middle section, add three dots of candy melts for buttons and push a single pretzel stick into each side for arms. Use chocolate frosting to secure Oreo to top of marshmallow head, then again to secure Rolo to top of cookie to create a hat. Finish off by tying "scarf" around your snowman's neck and your classroom treats are ready to go!
Designed by Laurie Furnell, ready-to-print penguin candy bar wrappers make quick and easy holiday classroom treats that kids are guaranteed to love.
Using your 3-D candy wrapper, wrap around chocolate bar to cover original wrapper and secure ends with glue for a festive classroom treat that doesn't require you to step foot in the kitchen. Bringing Christmas treats to your kids' classroom doesn't have to limit you to sugary snacks alone when you check out these Santa strawberries from LeanneBakes' blog. Remove stem end from strawberry with a paring knife to create a flat base for Santa; then slice opposite end to create a "hat" and set aside.
Place two chocolate sprinkles in the first dollop for Santa's eyes, and two dots of whipped cream on the front of the strawberry as buttons and you're ready to rock around the Christmas tree!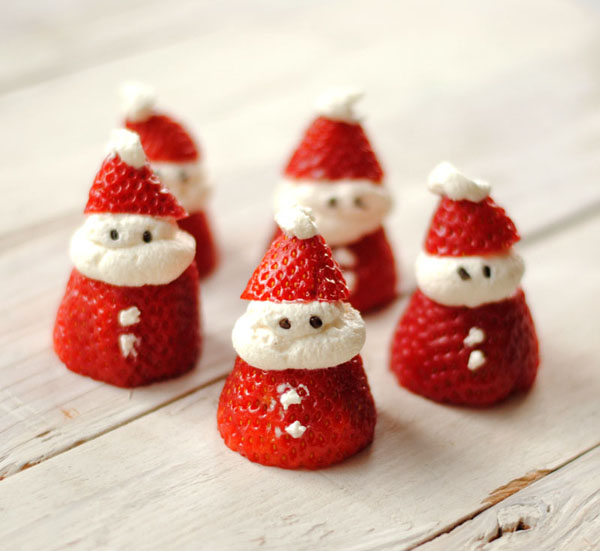 Place them on a plate as shown in picture and then add the cranberries which are the ornaments. Add cheese triangles for the star or if you have a small star cookie cutter use that to cut the cheese (tee, hee, hee).
From reindeer noses to Santa strawberries, bring the festivities to your kiddo's classroom with these four holiday classroom treats. One picture with a link back may be used provided that full and clear credit is given to Inspired by Familia and with appropriate and specific direction to the original content. Excerpts (no more then 2 sentences)and links may be used, provided that full and clear credit is given to Mari Hernandez-Tuten and Inspired by Family Magazine with appropriate and specific direction to the original content.