I specialize in French recipes, as you know, and sometimes, those can be pretty not self-improving.
This dish is a fresh warm black rice salad, full of all things green, and topped with miso-charred meaty Portobello mushrooms. A little secret to rice, which I picked up in France, is to boil it like pasta in a big pot of salted water.
I was vegetarian for a long time, so I know that mushrooms are so healthful, because they are a vegetarian source of vitamin B. Thickly slice the mushrooms, almost like steak, and perch them atop a pile of the warm black rice salad, studded with little flecks of green. Bring a medium-large pot of salted water to a boil.  Arrange the rack in the center of the oven, and pre-heat the broiler. Add the rice to the boiling salted water, and cook without a lid until tender, about 35 minutes.
While the rice is cooking, make the dressing by whisking together the rice vinegar, lime juice, soy sauce, remaining 1 teaspoon mirin, and sesame oil.  Set aside.
Ps: my parents polished off their bowls in the time it took me to write this and my mother kept commenting on how good the mushrooms were.
Recent Posts 06.11.16Maille Has a Mustard Sommelier (You Heard That Right), and Her Name Is Pierette Huttner!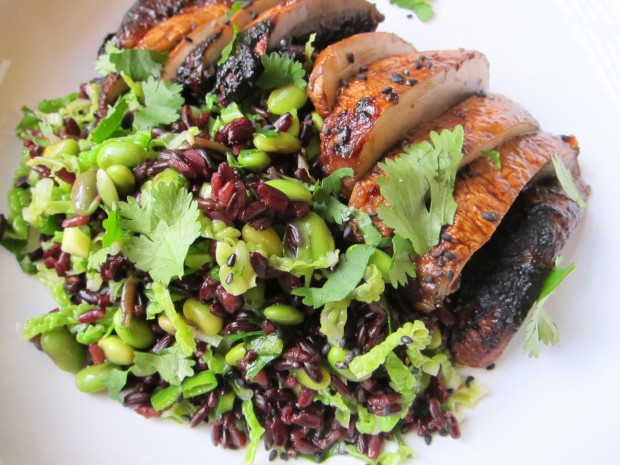 Unless otherwise noted, Material may not be duplicated, published or re-created without express written permission from site owner. At least in January, I can get away with it more easily when the rest of the world joins in. I first discovered black rice with Jessie about a decade ago when she took me to the Union Square restaurant republic, and I became obsessed with finding it. They also contain minerals, phytochemicals, and can be a great wintertime source of vitamin D if they were exposed to sunlight before or after harvest. She highlights her New England - Portuguese heritage & her passion for the importance of the family evening meal.
But what I love about food is that not only can you take pleasure in eating, but you can also take care by eating. Thankfully, it's more readily available now.  It's nutty, both in flavor and texture, and is full of antioxidants. Another dish to which Jessie also introduced me was miso black cod, my inspiration for these mushrooms. And this was the only time I've ever successfully used miso paste as part of a marinade without things ending up oddly fishy.
Then, to the warm salad, I add cilantro, jalapeno, lime (even a little more vitamin C!), and scallions.
I smother the Portobello caps in a mixture of freshly grated ginger, sweet mirin, and white miso, which according to Jessie contains more vitamin B, minerals, protein, phytochemicals, fiber, and interestingly, as a fermented food, probiotics. I char the mushrooms under the broiler, and as the mushrooms wilt and become juicy, the sweet and spicy marinade caramelizes and bubbles up. Those who read my posts will know that my maman taught me most of what I know about those gratins; but she also, in times of sickness, taught me about raw vegetable juices, herbal infusions, complete proteins and complex carbohydrates.
I let it steep together so the warm rice soaks up the flavors of the rest of the salad while I put together the miso-charred mushrooms.
In my posts this January, I will share a bit of my other obsession, food that is delicious, but devilishly healthy. To help me I've asked my good friend the fantastic New York nutritionist Jessica Katz to weigh in on some ingredients.