The next time you are searching for that perfect party appetizer, think beyond basic veggies and dip. Open the can of crescent rolls and flatten the sheet of refrigerated dough out on a cutting board. Place the slices on a baking sheet and bake in the oven for 10-12 minutes until the rectangles become golden brown. As I mentioned in a previous post explaining How to Make and Freeze Pesto, I'm also a big fan of pesto.
Today, I'm going to share some ideas for combining these two food loves: appetizers and pesto. At Italian restaurants, a small bowl of olive oil is commonly served with slices of bread for dipping. Fill each mushroom cap with crumbled feta cheese, and top them off with a dollop of pesto (the amounts will depend on the size of your mushrooms--just fill 'em up). These are fun to serve because not only do they taste good, but they are also colorful and pretty! Ingredients: small fresh mozzarella balls, pesto, tomatoes (I used mini heirloom tomatoes), avocado. Use cocktail toothpicks or skewers and load them up with the veggies and marinated mozzarella balls.
Take a wedge of brie cheese (you can substitute a block of cream cheese, if you don't like brie), spread it with 3-4 Tablespoons of pesto, sprinkle some pine nuts on top, and serve it with crackers.
So, there you have 8 appetizers you can make using that pesto you made and put in your freezer. June is National Fresh Fruit and Vegetable Month, so to celebrate I decided to make these festive fruit kabobs with a low-fat cream cheese dipping sauce.
Instead of buying premade fruit dip (available in refrigerated section in the produce aisle of most grocery stores) consider making this low-fat sauce.
I served these at Gabe and Lexi's recent birthday party to help balance the other sugar-laden desserts and the kids loved them! It is so versatile, and I like to keep it in my freezer for adding flavor to numerous dishes. As long as you have pesto on hand, the pictures below reveal most of what you need to know. You can make them up the day before and keep them refrigerated until you're ready to serve them. Click the link above the photo for the original web site.  Don't forget to Pin the ones you may need now to use later. This means that if you were to make a purchase through one of these links, I would receive a small percentage of the sale price - and that would be lovely.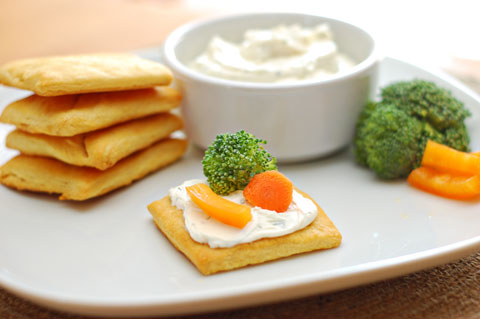 The prep work for this easy appetizer takes less than 15 minutes and they keep well in the fridge until friends and family arrive. They are filled with delicious cheese, finely chopped veggies and savory spices that your guests will love. Add in finely diced bell pepper, corn kernels, chopped black olives, black pepper and Italian seasoning.
Arrange the fruit on wooden skewers, basically following the order of the colors in a rainbow. Tapas restaurants have been popping up in recent years, and they have exactly the kind of menus I love--a variety of lots of little delicious tastes.
I wouldn't ever serve all of these at one time--that would be too much pesto even for me. I'll fill in a few ingredient details; but as you will see, not much explanation is required. But, I almost always have the ingredients on hand to make one or two of these--assuming there is pesto in my freezer.