I followed this recipe to the letter, OK, I used a little more oil in my beloved cast iron pan and warmed the oven to 200. Lay coated fillets in hot olive oil (medium-medium high heat) and cook until golden on the bottom, then turn fillets over and repeat. While fillets are cooking, combine Miracle Whip, sweet relish, and lemon juice and stir until well blended, then serve with the fish. Thaw frozen fillets in the package, in a bowl of warm water or sink for approx 10 minute Meanwhile combine spices in a bowl.
In the last 30 seconds of cooking time, pour the lemon juice and capers over the fillets and let it simmer in the pan. Place the fillets on plates, spoon a dollop of the butter on the top, and serve immediately. Once the butter is melted, add the garlic, lemon juice and parsley and saute for 2 minutes. Carefully lay each fillet in the skillet and saute for 2-? minutes per side until golden brown and crispy.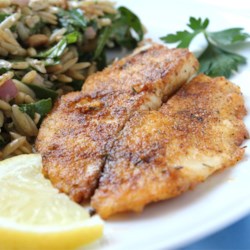 Using tongs lightly dredge both sides of the fillets in flour, shaking off the excess and lay in a single layer on a plate.
Place tilapia on a baking sheet that is lined with a paper grocery bag or paper towels and keep warm in the oven while you prepare the sauce.