Personally, I think it is really difficult to make a healthy meal every night of the week but with a little bit of prep, you can eat healthy every single night of the week. The key to prepping an entire week's worth of healthy meals is to do as much as you can beforehand, which includes planning, shopping, chopping vegetables, cooking up some rice, grilling some chicken and getting everything ready so all you have to do is throw together a few things when you get home during the week. Luckily I've done a lot of the leg work for you here and provided you with the meal plans, grocery list and recipes! Love the idea of planning and preparing healthy meals for an entire week…that would totally beat my system of hitting the grocery store every other day! We usually try to cook as many meals (or at least prep) as possible on Sunday nights because weeknights are usually really hectic and I don't like going to the grocery store more than 1-2 times a week. Since I work from home, I'm lucky in that I can meal prep during the day while working sometimes.
As far as meal planning goes, I'm a big believer in having your meals for the week figured out for the most part and then getting everything you need at the grocery store accordingly.
Yeah, I can't say I can do this every week but it helps to do at least some prep on the weekends! I definitely cook loads of quinoa up for the week, as well as de-stem and wash my kale and other greens. For instance, the other day I threw sweet potatoes in the oven in the afternoon to cook, took em out and covered them with tin foil while I went to the gym and running errands, then came home and had them all ready to go! Every couple weeks, I brainstorm new recipe ideas and go through cookbooks, write down what recipes I'm going to make, then come up with my food store list.
I also make big batches of veggie stock on the weekend so I can have it on hand for cooking other grains, thinning sauces, or for soups.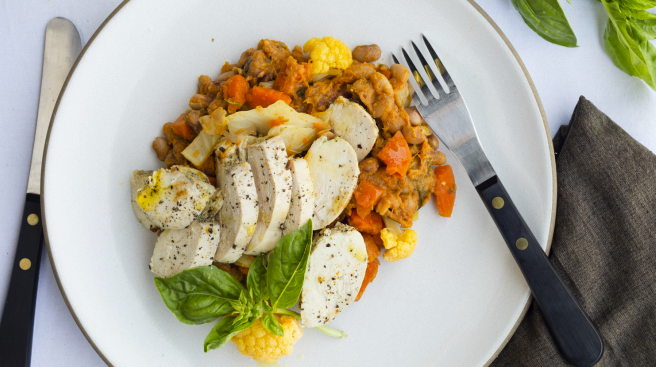 Everyday I strive to find balance in my life through fitness, healthy eating, occasional indulgences and generally enjoying all life has to offer.
Otherwise, I'd be all over the place, staring at my fridge starving post-workout, then probably just shoving random food in my mouth! I remember when I first got into healthy eating and the most difficult part was learning to be prepared.
I am assuming that you will be sending this over to the CookingChannel to pitch your own show, right?