When I put this dish on my menu a few weeks back, a lot of you commented or emailed and asked for the recipe. We thought the pasta salad was good, though, and since so many of you wanted to try it, I'm going to share it today.
I got the recipe from my newspaper (back before I cancelled the subscription!), and they'd adapted it from a Stephen Pyle cookbook.
If you need more help with avoiding cilantro waste, check out my list of ideas for using up cilantro. This Easy Chicken Salad Recipe is a great way to serve up a quick cool summer appetizer for your party guests or lunch for the kids.
Sometimes we use a basic chicken salad recipe which just uses celery but most of the time we add all kinds of yummy ingredients to it. This makes a lot of dressing but you can use it for other salads or cut the recipe in half.
Mix all ingredients together and add dressing (shake up dressing really good before adding). The original recipe specified a chilling time of 20 minutes, with the instruction to add lemon juice to liven up the flavor if that salad had to sit longer than that.
Add a little dressing at a time and mix and then keep adding more until covered nicely but you don't want it drowning in it.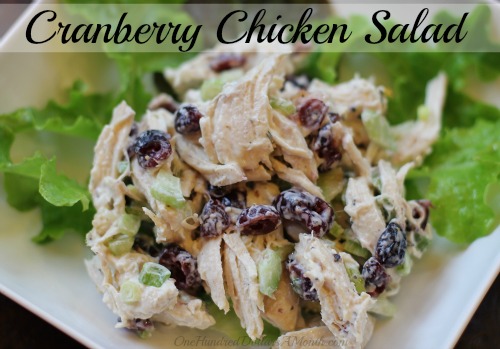 However, I thought the salad tasted better after it had chilled overnight, so next time I make this, I'll combine everything early in the day, or I will at least make the dressing early in the day so that the flavors have time to meld.