Take some wholegrain bread, slather on some mashed avocado, fill up with some leafy greens, chopped capsicum, tomatoes and grilled chicken, and voila – a quick and easy lunch, just as delicious as the sandwich you pay $10 for at the cafe down the road! Make a homemade pizza for dinner the night before and enjoy the rest for a lunch that feels indulgent, without the extra salt, fat and calories.
If you're after something light and fresh, but you're a bit over salads, rice paper rolls are a wonderful healthy option, and they're easy to make at home. Another healthy lunch classic, salads are great for whipping up big batches and taking a portion to work with you. Light, delicious, and with so many options for different fillings, sushi is the perfect healthy lunch.
This Vietnamese classic – a health and filling soup of rice noodles – brings a fresh and spicy kick to your lunchtime. Baking a vegetable-filled tart or frittata at the start of the week is an excellent idea, especially if you're low on time to prepare meals each day. You can't go past a classic fish and salad combo for a perfect dose of protein, omega-3s and veggie nutrients. Perfect for the cooler months, a hearty strew will get you warmed up and feeling nourished – it's comfort food you can feel good about.
Wraps seem like a healthier option than a traditional sandwich since they're not made with thick slices of bread, but depending on what you fill yours with, they can end up being a huge plate of calories and fat.
Choose your wrap wisely: There are a whole range of flavors from spinach to sun-dried tomato, and even though these seem to offer extra veggies, they're often made with enriched flour.
Use veggies as wraps: For even fewer calories, use greens such as chard, romaine, or spinach. Experiment with protein: Make the texture of your wrap more exciting and up the nutritional content by getting creative with proteins you normally wouldn't wrap up. Ask for healthy swaps: While the standard BLT has only three main ingredients, who says you can't add roasted turkey or swap the iceberg lettuce for calcium-rich spinach? Load up on the veggies: Low in calories and high in water and fiber content, adding tons of fresh veggies will make your wrap that much more filling. Watch the sauces and dressings: Mayo is a traditional sandwich condiment, but it's full of fat and unnecessary calories.
Go for cheese, but go thin: When buying cheese from the deli counter, ask them to slice it super thin. Get half to go: If you order a wrap while out to eat and you're greeted with an enormously thick wrap you can barely get two hands around, keep portion size in mind by saving half the wrap for the next day's lunch. The great thing about the classic wraps and sandwiches is they're so versatile, so you can have something completely different every day, and it's easy to make them healthier. It's easy to make your own base – check out our quick and easy pizza dough recipe by foodie favourite Adrian Richardson to get started. You can buy packages of rice paper wraps from most supermarkets – simply prep as instructed, fill with a mix of bean sprouts, shredded carrots, vermicelli rice, ribbon cucumbers, avocado, spring onion and some parsley or coriander, then parcel it all up! Try this pho recipe packed full of bright flavour and leafy ingredients, with an aromatic fusion of chicken, bean shoots, coriander and chili. Portion it up, freeze some for later, and you've got an easy lunch ready to be heated up and enjoyed with some salad.
The omega-3 fatty acids in oily fish like salmon and mackerel support your brain function, so it's a great way to break up the work day, as well as filling you up. Try this beef and vegetable stew recipe for a filling, slow-cooked mix of winter vegetable favourites like potatoes, turnips, parsnips and carrot. Find out if you are eligible here or call 131 680 to discuss with our customer service team. Whether ordering a wrap at your local cafe or rolling one up at home, keep these tips in mind. Be a label reader and ensure the first ingredient in your wrap is a fiber-filled whole grain. Check out this recipe for veggie chard wraps, or get a little creative by using cucumber as the wrap. For a thick and chewy texture, add flavored tempeh as in these kale avocado wraps with spicy miso-dipped tempeh. Likewise, if a wrap comes standard with ranch dressing or four different kinds of cheese, don't be afraid to ask the person behind the counter to hold those high-calorie extras. Slim down your wrap by swapping the mayo for dill dressing made with nonfat Greek yogurt, or choose a low-cal dressing from the bottle to add some zesty flavor.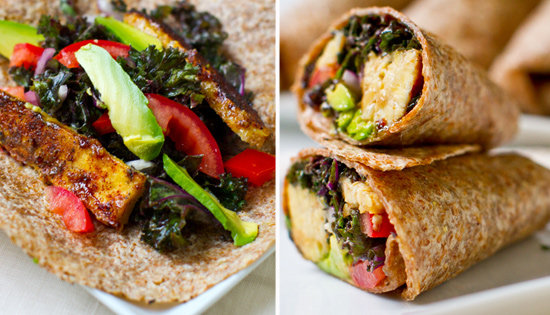 The beans make the burgers a little fragile, so be careful when taking them off the broiler pan. Just pick a protein (tuna, chicken, turkey, lean beef, tofu, falafel…), choose a mix of veggies, and complete with a healthy spread – salsa, hummus, cottage or cream cheese, mustard, relish, pesto and chutneys can all be great choices. These refreshing rolls are yummy with soy sauce, or you can even make your own dip by mixing your soy sauce with a little sweet chilli sauce, ginger, garlic and lemon juice.
Start experimenting with different ingredients and you'll soon discover salads are anything but boring.
Learn how to make some tasty vegetable nori rolls and a delectable dipping sauce with this video and recipe. To keep with the theme, you could even serve with a little Vietnamese salad of refreshing cucumber, carrots, spring onion and mint. Try this asparagus, leek and pea tart for an easy and delicious meal, or experiment with your own version using all your favourite vegetables and some legumes or meat for variety and protein. Grab a tin of tuna or grill up some salmon and enjoy with your favourite leafy sides, or try something a bit different, like these baked sardines seasoned with garlic and parsley, or this ocean trout with smoky eggplant recipe.
Grilled fish or hard-boiled eggs are another tasty protein-packed addition, or go for baked tofu, beans, and even cooked whole grains.
Get creative with sprouts, shredded carrots, sliced sweet potato, roasted asparagus, and sauteed kale. Load up your favourite vegetables, experiment with different sauces and pastes and add some lean meat for a protein hit. If you need some ideas, give this lamb, cherry and quinoa salad a go, try your hand at this prawn and mango salad, or check out our black rice and kale salad, spinach, almond and pomegranate salad or roast veggies and quinoa salad. For a similar idea with a twist, have a batch of these silverbeet, chickpea and ricotta rolls in your freezer to be served up with salad for a low-stress meal.