I got this recipe from my mother when I moved out of the house, because I wanted to make filipino food that she used to cook for us so that I can cook them for my family and keep passing down the recipes. In a zip lock bag, marinade the cubed chicken with the teriyaki sauce and 2 cloves of minced garlic overnight. The next day, in a large bowl, soak the rice noodles in warm water for 15-30 minutes, drain completely.
In a skillet, heat 1 tablespoon of oil on medium high heat and brown the chicken, drain and set aside.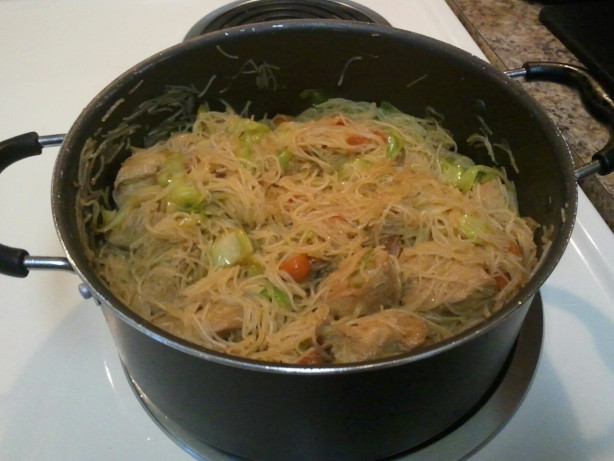 In a large pot, heat 2 tablespoons of oil on medium high heat and sautee 3 cloves of minced garlic and accent for 30 seconds. Add the cabbage, onions, and 1 tablespoon of soy sauce and stir fry until the vegetables are tender. I used a little sesame oil and added some extra veggies that I had that needed to be used up in the fridge, like bok choy, corn and diced red pepper. I left out the Accent as I did not have any on hand and I added a few splashes of mirin and oyster sauce.
I am proud and glad to try this recipe cos this is my first time making bihon and it turned out really good!