Tammy JohnsonNovember 29, 2012 at 7:34 AMI am gonna make this so I really Hope it is good ans as easy as you say!! Nobody can resist this classic main dish of boneless chicken rolls stuffed with butter and a green onion mixture, then breaded, fried, and baked to a golden brown.
Return the chicken and any accumulated juices to the pan; reduce heat to low and simmer until the chicken is cooked through, about 4 minutes.
Turn chicken so the sauce gets on both sides and then put in the oven at 350 degrees for 15 minutes. Bake, uncovered, in a 400 degree F oven for 15 to 18 minutes or until chicken is no longer pink (170 degrees F).
Other than that issue, the recipe was delicious.ReplyDeletemama robinsonApril 15, 2013 at 6:02 PMI made this tonight- Awesome!!!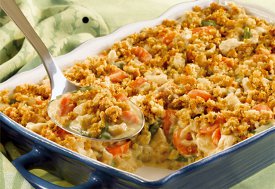 I made this, sauteed some broccoli, green bell peppers, and some cabbage (stuff i grabbed out of the fridge) and put it all on some rice.