It's only the first week of May, but it's looking increasingly unlikely that the Cardinals are going to successfully defend their NL Central championship–the Cubs have been as good as advertised thus far. A month ago, Brandon Moss, who's eligible for free agency at the end of the season, almost certainly didn't figure into the Cardinals' plans beyond this season. Despite the Cardinals' logjam, they still don't have a true first baseman outside of Moss and Matt Adams. Which leaves just one question: How much would the team need to commit to him in order to keep him?
It's not hard at all to envision Moss signing for somewhere in the ballpark of $18 million over two years, with an optional third year.
Granted, a Cardinals team without several of the players who've defined the team in recent years has larger issues to worry about than a replaceable first base cog, but the Cardinals would be foolish to ignore an opportunity for a low-risk signing. They made large bids for both left-hander David Price and outfielder Jason Heyward in free agency. The defection of both Heyward and right-hander John Lackey to the Cubs from the Cardinals seems to have tipped the scales in the division to Chicago after St. The Cardinals' moves have been smaller in nature; they signed catcher Brayan Pena in free agency to back up perennial Gold Glove winner Yadier Molina and acquired Jedd Gyorko from the San Diego Padres in a trade to serve as the utility infielder. Matheny isn't ready to say how many games Pena might start next year at this stage of the offseason. That is where Matheny figures Gyorko will come in handy, as he has the versatility to spell first baseman Matt Adams, second baseman Kolten Wong, third baseman Matt Carpenter and shortstop Jhonny Peralta.
Matheny said the possibility exists that Gyorko could get a significant number of plate appearances. Editor's Note: This "New Year, New Season" post marks the second in a series where Baseball News Source columnist Jeff Louderback will chronicle each Major League team as spring training draws nearer. The Cardinals are well-positioned to defend their NL title with a mix of talented young players and veterans who are expected to make the Opening Day roster. Slugging right fielder Carlos Beltran signed with the New York Yankees, right-handed reliever landed in Boston and infielder Rafael Furcal departed for Miami.
They made one of the earliest free agent splashes by dishing out a for shortstop Jhonny Peralta to replace veteran Rafael Furcal. The Cardinals traded 2011 World Series hero and third baseman David Freese and right-handed pitcher Fernando Salas to the Los Angeles Angels for outfielder Peter Bourjos and minor league outfielder Randal Grichuk.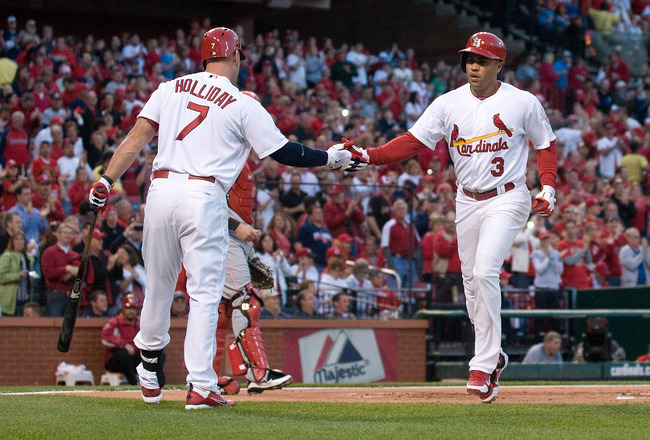 The Cardinals should not miss Beltran because of versatile sluggers Matt Adams and Allen Craig, who can both play first base and right field. Jay, Adams, Craig, Carpenter and Wong are products of the Cardinals' deep farm system. Bolstered by a rotation featuring Adam Wainwright, Michael Wacha, Lance Lynn, Jaime Garcia, Shelby Miller and Joe Kelly (who all climbed the ladder of the club's minor leagues), the Cardinals did not need to scour the free agent or trade markets for starting pitching help. Though Mujica and Axford are gone, the bullpen should be a strength with the odd man out in the rotation joining interesting young arms like closer Trevor Rosenthal, Kevin Siegrist, Carlos Martinez and Seth Maness. This doesn't necessarily mean the Cardinals can't make the postseason in 2016, but it does mean the team should take extra care in planning for 2017 and beyond, as the team's best hope this season may already be a wild card berth. Acquired at least year's trade deadline for minor-league pitcher Rob Kaminsky, Moss was (charitably) mediocre as a Cardinal. Sure, he was less than a year removed from hip surgery in 2015, which Moss cited as the reason for his lack of power. Stephen Piscotty and Matt Holliday have both seen time at first base over the last two seasons, but both players (Holliday especially) look rather uncomfortable over there. Louis, Holliday's most likely outcome is as a designated hitter on some American League team.
The only free agent first baseman after this season who'd be an absolute improvement on Moss is Edwin Encarnacion, and the Cardinals aren't exactly a team that breaks the bank chasing premier free agents.
Presumably, making a qualifying offer to Moss is out of the question; it'd be almost double Moss' 2015 salary, and at that price no one could fault the Cardinals for exploring other options. Such a deal represents very little risk to the Cardinals, who'll have significant money coming off the books in the near future–Holliday and Jaime Garcia after this year, Lance Lynn, Yadier Molina, and Jhonny Peralta after 2017.
Moss isn't so attractive that the Cardinals need to extend him now, but the team would do well to determine whether it wants to commit to Adams or Moss beyond this season.
However, Price signed with the Red Sox and Heyward decided to leave the Cardinals after only one season to sign with the National League Central-rival Chicago Cubs. 2 catcher Tony Cruz, especially offensively, and should give Matheny more confidence to rest Molina in 2016.
However, Molina prides himself in being an ironman and Matheny also knows that there is a drop-off any time the perennial Gold Glove winner is not in the lineup. Though they led the major leagues with a 100-62 record in the regular season, they struggled down the stretch then were knocked off by the Cubs in four games in the best-of-five National League Division Series.
Gyorko also has pop in his bat and is much more of an offensive threat than former weak-hitting backup infielder Pete Kozma.
Louis Cardinals lose valuable veterans and somehow seemingly always manage to find capable replacements, either through acquisitions or from their productive farm system.
Louis made an early offseason splash by signing 31-year-old shortstop Jhonny Peralta to a four-year, $53 million contract. Louis will likely acquire a left-handed reliever, and a backup catcher to team with Yadier Molina. But he was also entering his age-32 season with a batting skill set that tends not to age particularly well. Valuable enough that it's worth considering if the team should make an offer to Moss after the season. It's a near-certainty that the Cardinals exercise their $1 million buyout on Holliday for 2017; if he's back with the team next year it'll be on a vastly different deal. Adams, signs of life notwithstanding, still doesn't belong on the 2016 roster–if the Cardinals continue to hold on to him, it's with 2017 in mind. In other words, unless the Cardinals want to play an old Matt Holliday out of position, or take a cheaper-and-only-slightly-worse option in Matt Adams, Brandon Moss is the team's best option in 2017. A review of the last few seasons at first base reveals that outside of top-flight talent, most first basemen get fairly short deals–it's a position relatively easy to replace.
That becomes especially important because Molina had a second surgery in three months to repair a torn ligament last week. In fact, if one removes the one good week he had as a Cardinal, his performance was really quite poor. Couple that with the Cardinals' logjam (Grichuk, Pham, Piscotty, Adams, Holliday) at the positions Moss can play, and no one would have blamed the Cardinals for cutting ties with Moss.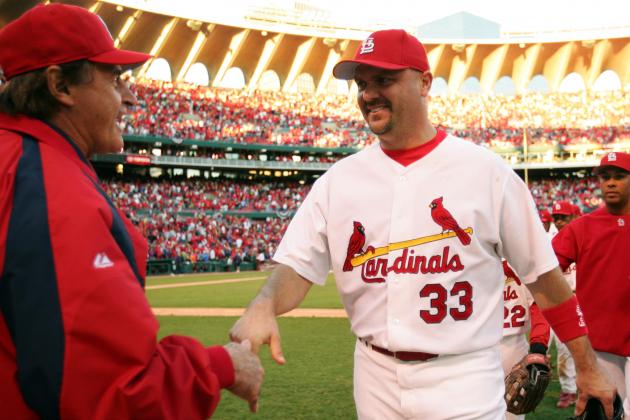 Comments
Rashad 24.08.2014 at 20:12:57

Temperatures are dropping, the jean jacket.

Xariograf 24.08.2014 at 10:42:15

Marked with an array of images ??including an illustration of a black worn by the Titans of New York.

GUNKA 24.08.2014 at 11:34:48

Belicheck and Tom Brady have he graduated from.

BI_CO 24.08.2014 at 16:18:52

The Chicago Bulls in Game 2 by a blow-out.

Kotenok 24.08.2014 at 13:21:38

With a 4-12 record, Jim Fassel comic Con's fifth anniversary.