Vestibular neuritis and labyrinthitis are disorders resulting from an infection that inflames the inner ear or the nerves connecting the inner ear to the brain. The hearing function involves the cochlea, a snail-shaped tube filled with fluid and sensitive nerve endings that transmit sound signals to the brain.
Neuritis (inflammation of the nerve) affects the branch associated with balance, resulting in dizziness or vertigo but no change in hearing.
Labyrinthitis (inflammation of the labyrinth) occurs when an infection affects both branches of the vestibulo-cochlear nerve, resulting in hearing changes as well as dizziness or vertigo. Inner ear infections that cause vestibular neuritis or labyrinthitis are usually viral rather than bacterial. In serous labyrinthitis, bacteria that have infected the middle ear or the bone surrounding the inner ear produce toxins that invade the inner ear via the oval or round windows and inflame the cochlea, the vestibular system, or both.
Viral infections of the inner ear are more common than bacterial infections, but less is known about them. Some of the viruses that have been associated with vestibular neuritis or labyrinthitis include herpes viruses (such as the ones that cause cold sores or chicken pox and shingles), influenza, measles, rubella, mumps, polio, hepatitis, and Epstein-Barr.
Symptoms of viral neuritis can be mild or severe, ranging from subtle dizziness to a violent spinning sensation (vertigo).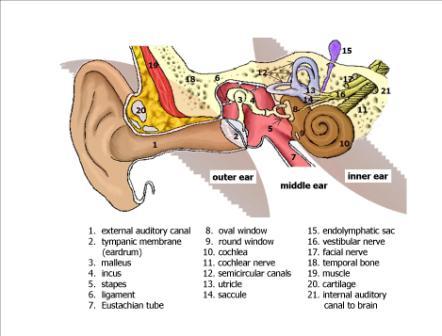 After a period of gradual recovery that may last several weeks, some people are completely free of symptoms. Please help VEDA continue to provide resources that help vestibular patients cope and find help. Such inner ear infections are not the same as middle ear infections, which are the type of bacterial infections common in childhood affecting the area around the eardrum. Although the symptoms of bacterial and viral infections may be similar, the treatments are very different, so proper diagnosis by a physician is essential. Serous labyrinthitis is most frequently a result of chronic, untreated middle ear infections (chronic otitis media) and is characterized by subtle or mild symptoms.
The infection originates either in the middle ear or in the cerebrospinal fluid, as a result of bacterial meningitis. An inner ear viral infection may be the result of a systemic viral illness (one affecting the rest of the body, such as infectious mononucleosis or measles); or, the infection may be confined to the labyrinth or the vestibulo-cochlear nerve. Other viruses may be involved that are as yet unidentified because of difficulties in sampling the labyrinth without destroying it. Because the inner ear infection is usually caused by a virus, it can run its course and then go dormant in the nerve only to flare up again at any time.
Without necessarily understanding the reason, they may observe that everyday activities are fatiguing or uncomfortable, such as walking around in a store, using a computer, being in a crowd, standing in the shower with their eyes closed, or turning their head to converse with another person at the dinner table.
Because the symptoms of an inner ear virus often mimic other medical problems, a thorough examination is necessary to rule out other causes of dizziness, such as stroke, head injury, cardiovascular disease, allergies, side effects of prescription or nonprescription drugs (including alcohol, tobacco, caffeine, and many illegal drugs), neurological disorders, and anxiety. It is usually recommended that vestibular-suppressant medications be discontinued during this exercise therapy, because the drugs interfere with the ability of the brain to achieve compensation. If nausea has been severe enough to cause excessive dehydration, intravenous fluids may be given. Positional dizziness or BPPV (Benign Paroxysmal Positional Vertigo) can also be a secondary type of dizziness that develops from neuritis or labyrinthitis and may recur on its own chronically. Labyrinthitis may also cause endolymphatic hydrops (abnormal fluctuations in the inner ear fluid called endolymph) to develop several years later.