In 2013, revisions were made to the Gonococcal Infections chapter in response to emerging antimicrobial resistance. For treatment regimens in children, see Gonococcal Infections and Chlamydial Infections chapters. In addition to the discomfort of repeated outbreaks and the risk of transmission, there is also concern that, like other ulcerative STDs, HSV may play a role in the transmission and acquisition of HIV.
The most dramatic change in the diagnosis of STIs has occurred in the laboratory diagnoses of gonorrhea and chlamydia.
For helpful up-to-date information on the management of STDs, click here (includes an image gallery, CDC guidelines, and more).
When a chancre or generalized rash is present in the clinical setting, laboratory testing should be used for confirmatory purposes. In April 2004 the CDC changed its' recommendations regarding the use of Fluoroquinolones for the treatment of gonorrhea. Sexually Transmitted Disease Surveillance Report, 2003 -- STDs in Persons Entering Corrections Facilities. A Supplementary Statement has been developed to highlight key changes in the diagnosis, management and follow-up for Urethritis until such time as the full chapter revision is available. This Supplementary Statement should be used in conjunction with the 2010 chapter to ensure that the most current recommendations are being implemented in your practice.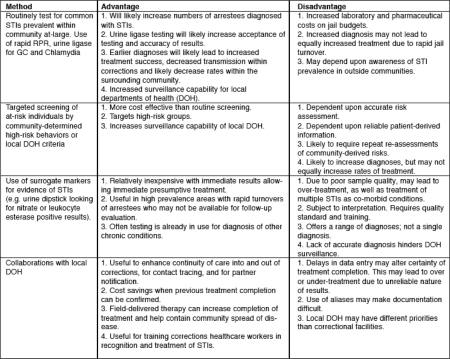 Consult a pediatric infectious disease or HIV specialist before prescribing antiretroviral medication and obtain assurance that the child or adolescent will return for follow-up.