Most people will get a tingling or burning sensation in the area where a lesion is about to form. Laser treated lesions take 4-6 days to heal and there is rarely any scarring or visible evidence that the procedure was completed once the lip heals.
I use a CO2 laser in my practice, but other laser manufacturers are reporting the same findings using YAG and Diode lasers as well. For some who have very high recurrence rates, Acyclovir can be taken daily to suppress or minimize the number of outbreaks.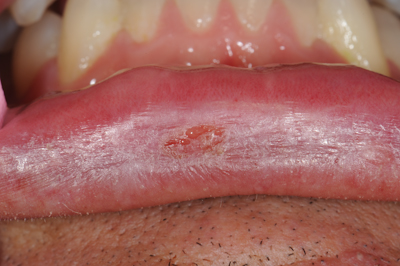 The mechanism by which laser treatment suppress recurrent outbreaks is not fully understood. The lesion is formed by the destruction of skin cells as they are burst from the virus particles. I surmise that somehow laser treated lip tissue is altered so that it doesn't conduct typical stimuli that would normally cause the release of virus particles or, more unlikely, its able to eradicate virus particles from the nerve cell itself.
Once the lesion is treated, with the laser, it becomes asymptomatic, meaning that the pain and discomfort stop immediately.
Patients who have been treated with the laser do not report any difference in sensation with the treated area.
If the lesion extends on the facial skin beyond the lip mucosa be conservative in that part of the lesion as it can leave a reddened area that will eventually fade with time but can take longer than just letting the herpes lesion run its natural course.