When the United States commissioners negotiated with the Seminole chiefs the treaties of Payne's Landing (9th of May 1832) and Fort Gibson (28th of March 1833) for the removal of the Seminoles to Arkansas, Osceola seized the opportunity to lead the opposition of the young warriors, and declared to the U.S. Late in November 1835 he murdered Charley Emathla (or Emartla), a chief who was preparing to emigrate with his people, and on the 28th of December he and a few companions shot and killed General Thompson.
The war continued until 1842, but after Osceola's death the Indians sought to avoid battle with the regular troops and did little but attack the unarmed inhabitants.
But on the 2nd of June Osceola came to the camp at the head of about 200 Mikasuki (Miccosukees) and effected the flight of all the Indians there, about 700 including the hostages, to the Everglades.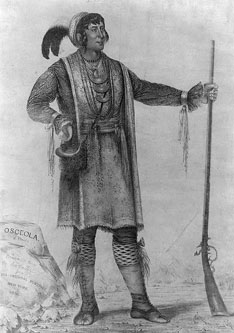 In a battle fought three days later at a ford of the Withlacoochee, Osceola was at the head of a negro detachment, and although the Indians and negroes were repulsed by troops under General Duncan L.
Hernandez captured several chiefs, and a few days later there came from Osceola a request for an interview. Clinch (1787-1849), they continued, with Osceola as their determined leader, to murder and devastate, and occasionally to engage the troops. Call (1791-1862) conducted campaigns against them with little effect, and the year closed with General Thomas Sidney Jesup (1788-1860) in command with 8000 troops at his disposal.
This was granted, and by command of General Jesup he was taken captive at a given signal and carried to Fort Moultrie, at Charleston, South Carolina, where he died in January 1838.