If you wish to request a search of the marriage registration and receive details from the certificate please go to our BMD Requests page. On 31 March 2014, the General Register Office of Northern Ireland (GRONI) launched an online search and pay-to-view database for historical birth, marriage and death records. The records date back to the introduction of Ireland's civil registration system in April 1845 (for non-Catholic marriages only) and January 1864 (for births, deaths and Roman Catholic marriages). If you already know the names, approximate dates and location of your ancestor's birth, marriage and death within the relevant timeframe, it should be relatively easy to obtain copies of the relevant registration record.
It was introduced across the entire island of Ireland at a time when Ireland was part of Britain.
The Partition of Ireland: Following the partition of Ireland in 1922, a new General Register Office was set up in Belfast to administer a Northern Ireland civil registration system covering just the six counties.
Northern Ireland civil registration records from 1922 onwards are available only from GRONI. You have three options – the online Historical Records Database, the Public Search Room's Database, or the non-computerised system used in the Republic.
It includes births, marriages and deaths registered in the six counties of Northern Ireland: Antrim, Armagh, LondonDerry, Down, Fermanagh, and Tyrone. The records survive intact and provide one of the most accurate collections of data on our Irish ancestors' lives.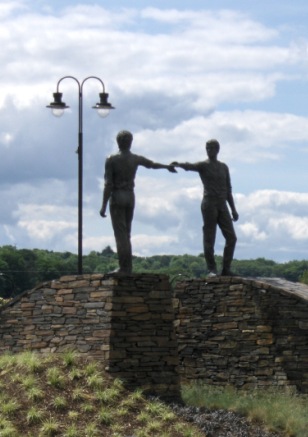 While the General Register Office in Dublin retained the historical civil registration records for the six counties, a complete set of copies was sent to Belfast.