John's talents soon found their way to Universal Studios California where he worked summers as a cartoonist between stints at Cal State at Fullerton where he studied the "3D's" dating, dancing, and ddesign. In 1975, mustering his entrepreneurial spirit and with his accumulated professional experience (and a prayer), John embarked on his own business venture. John lives in Florida with his wife Jan, their daughters, Vanessa, Elena, and Sarah, and the family labrador retriever "Elke." Horses are their hobby occupying their family time.
With a knack for quick-sketch caricature, John's art drew him to Disneyland where he would sometimes sketch up to 400 people in a single day. Developing the "Beasties of the Kingdom" collection along the way, John fulfilled a lifelong dream and created a vehicle for his personal style and sense of humor. Starting with just six designs in his collection, John soon directed his talents to creating new and better "Beasties" to keep up with the ever growing demand.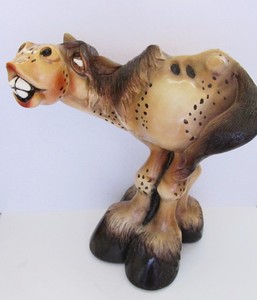 Since then, John has increased his collection to include over ninety new "Beasties of the Kingdom" that has attracted a global family of collectors.