In addition, a scathing report last spring from the Government Accountability Office found that the BOP did not know whether its use of "segregated housing" had any impact on prison safety, how it affected the individuals who endure it, or how much it all cost American taxpayers.
When asked what had happened to the 25 percent of prisoners who had been removed from the SHUs, a Bureau of Prisons spokesperson had no concrete numbers, but said that they either were put into general population, sent to state prisons, or possibly dispatched to Special Management Units, or SMUs.
The National Institute of Corrections (NIC), which conducts research and develops programs, is in fact a part of the federal Bureau of Prisons, meaning that the agency is investigating itself. The audit will take a year to complete, with a literature search on segregation and inquiries into the operations of several prisons which have not yet been chosen. Commissioning a study by CNA is a far cry from bringing in a reform-minded outfit like the Vera Institute for Justice, which is what several state prison systems have recently done in an effort to reduce their use of isolation. Even as the BOP moves forward with the audit, other developments suggest that the federal government is planning to increase its use of certain forms of prison isolation. Wolf, a longtime proponent of prison reform, has also joined with the Appropriations Committee's ranking Democrat, Chaka Fattah, to float a bill that would launch a $1 million inquiry into BOP operations.
Meanwhile, the federal government has completed purchase of a prison meant to house still more isolation cells. At that hearing, convened by a Senate Judiciary subcommittee chaired by Illinois Senator Dick Durbin, Samuels acknowledged under questioning that he didn't know how many people with mental illness were in isolation in federal prisons, and was short on details about the BOP's use of solitary confinement.
Current lawsuits are challenging the treatment of individuals with mental illness at ADX Florence, the notorious federal supermax prison in Colorado. A source with knowledge of the federal prison system told Solitary Watch that the use of SMUs has been growing since their genesis six years ago, and that shuffling prisoners from SHUs to SMUs might yield misleading statistics on the reduction of isolation in the BOP overall.
On October 1, as the government shutdown began, the Obama Administration released $165 million in unobligated Justice Department funds to buy Thomson Prison from the state of Illinois. The bill, which passed the full committee but has not yet gone to the floor, would establish and support the Charles Colson Task Force on Federal Corrections, named for the Watergate conspirator turned prison evangelist and reformer.
But with a few exceptions (including, notably, current Prison Fellowship leader Pat Nolan), BOP critics on the right have shown little concern for the conditions in which federal prisoners actually live, including the use of solitary confinement.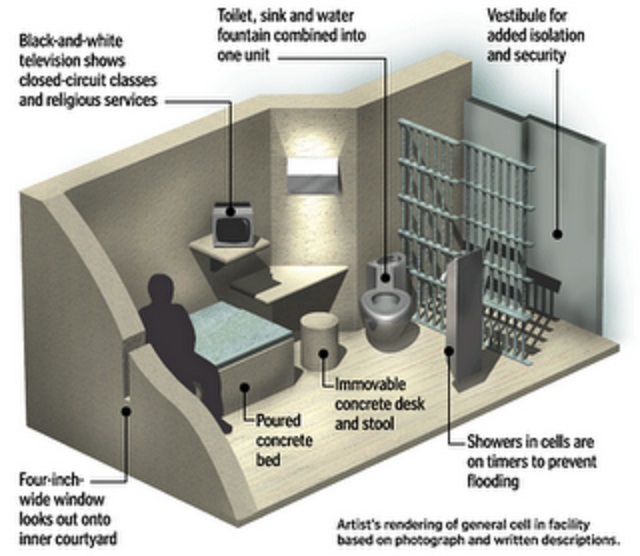 The BOP plans to add more isolation cells at its newly purchased prison in Thomson, Illinois.
Increased media coverage of ADX has uncovered horror stories of psychotic prisoners who gouge holes in their own flesh or eat their own feces, along with at least one suicide. The contract for the job is worth $498,211—small potatoes, as BOP contracts go, and not much to audit a practice that involves 7 percent of the federal prison population. As Solitary Watch reported earlier this year, the government has plans to use the prison for segregated housing. Some portions of the prison will be designated as Administrative Maximum, or ADX, the most extreme type of isolation, and others will be SMUs.