Bickford About Us Attorneys Practice Areas Testimonials Videos Blog FAQS Contact Us Home > About Us - San Diego Divorce Attorneys About Us - San Diego Divorce Attorneys Divorce can be a frightening and a daunting process. Selecting the right law firm or divorce attorney to represent you is one of the most important decisions you will make in your separation process.
We understand that as you begin to walk down the path that divorce will take you, everything is at stake.
As you read more about our firm, located in the Carmel Valley area of San Diego county, you will be able to decide if this is the right firm for you at this critical time in your life and the lives of your children.Our family law attorneys are dedicated to addressing divorce and separation needs in a positive, collaborative manner that resolves conflict, avoids court intervention whenever possible, and helps families restructure their relationships to benefit all members during and after the divorce. As divorce lawyers, it is our goal is to empower you to participate in creating your own agreements and, whenever possible, to resolve matters with a negotiated settlement.If you and your partner have valuable assets, you will need divorce help from family lawyers with experience in both legal and business matters. Bickford, APC, a divorce law firm in San Diego you will be represented by a team headed by attorney Nancy Bickford, who has been certified by the State Bar of California Board of Legal Specialization as a certified specialist (CFLS) in family law.In addition to being a Certified Family Law Specialist, Ms.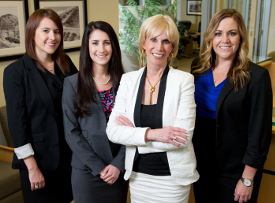 When necessary, our lawyers can easily collaborate with financial consultants or experts, accountants, economists, business appraisers, and other such professionals to work through the complex issues that many divorcing parties face. We are committed to providing you with expertise in all areas of family law, and to providing zealous advocacy when needed.Of course the most precious aspect of any divorce is the need to preserve the emotional, physical and psychological well-being of your children, and to help you protect them from becoming involved in any divorce-related matters.
If, however, you cannot work through your disputes yourselves or through mediation, we will fight zealously through the court system to protect the rights of your most precious assets - your children.Read more about family law and divorce hereHere at the Law Offices of Nancy J. Bickford, APC, we work closely with our clients to guide them through the divorce process in San Diego. We pride ourselves on being accessible to all of our clients and on promptly returning calls and answering questions.How We Are Different From Other San Diego Divorce Law FirmsMs. Bickford, a divorce lawyer specializing in divorce cases from neighborhoods such as Del Mar, Carmel Valley, and Rancho Santa Fe, values integrity and dedication in her practice.
Nancy also has a unique team of divorce attorneys to help support her practice, who specialize in areas such as Child Custody matters, as well as focused and effective discovery practices. We get results!Contact us today if you are considering a divorce or separation from your spouse, or would like to schedule a consultation to discuss any other family law issues, (858) 793-8884 Contact Us Name (Required) Email (Required) Phone (Required) Message Message --> Name (Required) Email (Required) Phone (Required) Message Enter text from the image above. Litigation Spousal Support Division of Property Premarital Agreements Annulment Child Custody Child Support General Information - San Diego Family Law Reviews & Testimonials Child and Spousal Support San Diego Divorce Attorneys Blog "Post-Nups" on the Rise Just last month, on December 4, 2015, the final judgment of Antonio Banderas and Melanie Griffith's divorce was filed.