Dr Luckett spent four years at CSIROs cotton breeding program before moving to Wagga Wagga Agricultural Institute to work on tissue culture for plant breeding.
Dr Luckett led the GRDC-funded lupin breeding program at Wagga Wagga from 1996 to 2008, breeding both albus lupins and narrow-leaf lupins. In 2009 Dr Luckett took responsibility for the GRDC-funded National Brassica Germplasm Improvement Program (NBGIP) also known as: canola pre-breeding.
Gan MJT, Ash GJ, Cowley RB, Savocchia S, Luckett DJ (2009) Genetic variation of Pleiochaeta setosa from Lupinus albus.
Luckett D, Cowley R, Richards M, Roberts D (2009) Breeding Lupinus albus for resistance to the root pathogen Pleiochaeta setosa.
Wunderlich N, Ash GJ, Harper JDI, Cowley RB, Luckett DJ (2008) Penetration and symptom development of Pleiochaeta root rot in susceptible and resistant Lupinus albus cultivars. Chen Y, Lee LS, Luckett DJ, Henry R, Hill H, Edwards M (2007) A quinolizidine alkaloid O-tigloyltransferase gene in wild and domesticated white lupin (Lupinus albus). Lemerle D, Gill GS, Murphy CE, Walker SR, Cousens RD, Mokhtari S, Peltzer SJ, Coleman R, Luckett DJ (2001) Genetic improvement and agronomy for enhanced wheat competitiveness with weeds.
Dr Luckett completed BSc (Hons) at Sheffield University, UK, before undertaking a MPhil (Plant Breeding) at Cambridge University, UK and then a PhD from Cambridge University in the field of barley population genetics. Dr Luckett joined CSIRO's cotton breeding program at Narrabri, NSW before moving to NSW Agriculture (now NSW Department of Primary Industries) at WWAI to work on tissue culture for plant breeding.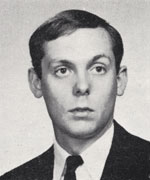 Dr Luckett is also involved in the selection of improved spelt varieties and the development of agronomic recommendations for spelt.