If you have similar issues, personal item locators help you hone in on the position of your keys, cell phone or even that TV remote that always seems to have gone missing.
Hello, there is a product called Find One Find All…(FOFA) which is really nice because you can call any device from any device. Set each tag so you can find it on demand or if it wanders out of range (50-100 feet inside and up to 500 feet outside).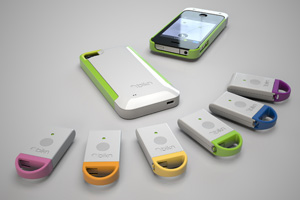 Once paired via Bluetooth, If phone and keys are ever separated, the keychain Tag and phone both make and audible chime. Since the receiver resides in the case, you can use any tag to locate your phone—even if your phone is dead.
To find an item up to 60 feet away, you just press the colored button the matches your item's tag and the tag will beep.
The Cobra Tag app also marks the GPS coordinates where the devices separated and can automatically send that location via e-mail and social networks, so you'll know exactly where the phone or keys were left behind.