While there are some good outdoor first aid kits on the market, there is great value in putting together your own outdoor first aid kit. Typically, a good personal kit has items to deal with likely minor personal injuries (such as cuts, bites and blisters), as well as less likely but more serious injuries.
Usually, in putting together a wilderness first aid kit of any size, whether it is for personal or group use, you will be forced to compromise: There is only so much equipment you can carry.
I'm not recommending that everyone needs or should assemble the same personal wilderness first aid kit I have. Warning: You should always make sure that you are not allergic or prone to any other adverse reaction to any medicines you choose to include in your first aid kit. While I've organised everything in my kit to be easily accessible in the order I need, I generally have some other items I can also use. In the process of assembling your first aid kit, you will have to think carefully about what to include and how you might use the included items.
The choice of equipment to include in your kit is a personal one, based on your training, experience, where you are going and the specific risks you might face.
I have discussed this approach in other articles covering essential wilderness equipment and bushcraft survival kit. Antiseptic wipes: I find having a few of these in my kit handy for cleaning up, wiping blood off cutting tools, camping equipment etc.
Minor Wound and Blister kit: This is similar to my stand-alone cuts kit so I'm effectively doubling up on many of the items I use most when in the outdoors.
CPR Mask: While not as good as a pocket mask (which won't fit in a kit this small), this is a robust mask. Please do let me, and other readers, know about any first aid kit advice, tips or tricks that you'd like to share by leaving a comment in the comments section.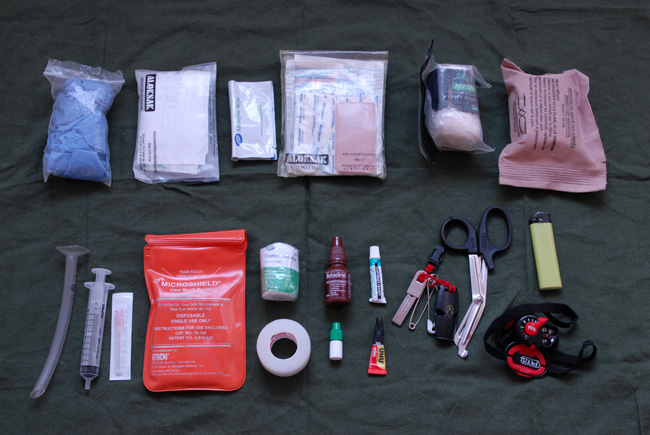 You should also consider how to pack your kit so you can access the items you need, in the order you might need them. You can always use a good off-the-shelf camping or hiking first aid kit as a base on which to build. I favour items that are suited to outdoor use and can endure the wear and tear that comes with wilderness travel. I'm highlighting what is in my kit because I'm often asked and therefore I know people are interested. I fold them in pairs and store them in a plastic bag for protection from getting snagged in the zip of my kit. Also, unless you are permitted by the remit of your training and relevant laws to administer or offer the medication in question, any medicines you include in your first aid kit should be for your personal use only and not given to anyone else. I take the view that while it would be great to have a full range sizes of NP and OP airways, I don't have space in this kit and one NP airway is better than nothing.
I find it a good way to safely have a sharp point in my first aid kit without risking damage to any contents or myself. While I normally have a whistle around my neck, I find having everything I need in my first aid kit reassuring – in an emergency I can just grab my kit and go.
In addition to writing this blog Paul owns and runs Frontier Bushcraft, a wilderness bushcraft school, offering bushcraft courses and wilderness expeditions. By the time you have completed your outdoor first aid kit, you will know the kit intimately. Bear in mind that the best part of many so-called outdoor first aid kits is the case or pouch containing the kit.
The best wilderness first aid kits are ones where the contents, your experience and the likely risks are in sync.
In particular, it is worth considering the robustness and waterproofing of the packaging of your first aid kit items. The baseline for my kit is the inclusion of an analgesic, an anti-inflammatory, an antihistamine, Imodium (Loperamide), and Diarolyte.
The contents of many travel first-aid kits are limited in scope, containing not much more than some cheap plasters and bandages, making the kit as a whole overpriced. The next building block up as far as emergency first aid equipment is concerned is my personal wilderness first aid kit.
I had my usual head torch with me but ever since then I've always carried a dedicated emergency lamp in my first aid kit. I hope this article will give you the basis to think about what's already in your personal first aid kit as well as what else you might like to include. This whole process – of optimising your first aid training and assessing the risks you face – improves your wilderness survival skills and maximises your outdoor preparedness.
Then the contents of the kit will not only stay in one piece until I need to use it but also the various contents will perform well once they are in use. The aim of my kit is to be able to do as much as possible with what I have, taking into consideration other gear I carry and what might be improvised. For items of your first aid kit that must remain dry, I recommend packing them in Aloksak waterproof storage bags. If you choose your kit contents wisely, for a given level of functionality you can pack fewer of a particular item in favour of making space for other items or saving weight.