A lot of people are of the opinion that a big knife is the "best" survival tool one can have. The MK I has the metal pommel, Kraton grip and crossguards, and has a stainless steel blade. With the blade type chosen, after suitable reflection, it's time to ponder just what constitutes the best items to fill out your kit. Gerber Bear Grylls SURVIVAL AO Folding KNIFE - Folding KNIFE - 3 Blade - Stainless Steel BladeSurviving the unexpected is about being prepared, and the Bear Grylls SURVIVAL AO Folding KNIFE exceeds the standard.
Tool Logic SURVIVAL Card I - BlackThe SURVIVAL Card I is packed with lifesaving features: it offers a new skeletonized, serrated KNIFE of tough stainless steel, a magnesium alloy fire starter, a loud signal whistle, plus an 8x power lens and compass. The Handle scales have been contoured for a positive grip and it has thick Black Fiber Liners underneath.
While I have made many knife-based kits, they have often been built around knives that were larger and heavier than truly necessary.
There are a few basic items that all kits have in common, and these usually revolve around (in order of importance) shelter, water and food procurement, fire, and tools.
What this kit gives you are the tools and bare essentials that, along with natural or man-made materials scrounged by the survivor, will increase the odds of survival. Based on Ron Hoods design and built to Bucks quality standards, the Hoodlum helps ensure SURVIVAL in extreme conditions. A lighter, more compact kit is the kind that's easiest to carry, and therefore most likely to be on your person when it's truly needed. Ontario has been a supplier of military issue knives for decades and most of the Spec Plus line is, indeed, updates of their older, issue, blades.
The blade is basically a drop point, with an unsharpened swedge and very stout tip; an interesting blade shape that should be more often emulated. It consists of an orange plastic handle, with locking screw, that holds 2 three inch segments of hacksaw blade. As a knife is one of the most useful tools a person can have in a wilderness survival situation, as well as being the single heaviest item in such a kit, that's the most logical place to start building a lighter, more compact, kit.
After all, most survival situations unfold when least expected; that's why it's imperative to keep your kit on your person at all times.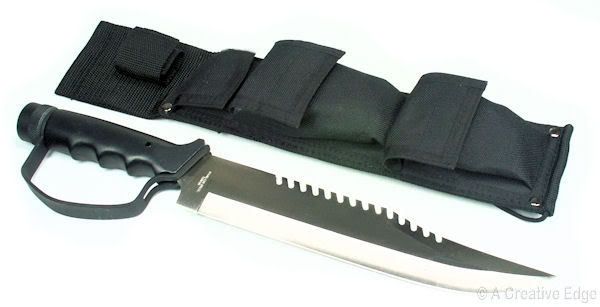 Both knives are of very similar size and shape, so the sheath fits quite well (this sheath also fits the issue Pilot's Survival Knife, made by both Camillus and Kabar). With the full flat grind, given the blade's width and thickness, this knife is an exceptional cutter, slicer and whittler. Of course, it's too light and short for any but the most minor of chopping, but it is quite a good blade for use with a baton to handle larger wood. The latest addition to the Spec Plus line is the Freedom Fighter Series, which takes the blades and Kraton handle shape from the basic line and upgrades the "new" knives with steel crossguards and pommels.
While a knife this size and of suitably robust construction is perfect for baton work, it's real niche is as utility blade, capable of doing all the myriad chores necessary while in the woods, for whatever reason. With the variety of handles, pommels, crossguards and blade shapes, one would be hard pressed to not find a knife suitable for his purpose.