Unfortunately, I don't think I have the tools or know-how to do a similar mod to an Alox knife, or I would give it a try too. Somebody a while ago posted a picture of a modded Cadet with a clip, and I've been drooling over it ever since. I don't have the skills nor the tools but I was thinking of using the nite ize pocket clips for the cell phones. Please check the"Sticky" thread in the Production Knives forum and make sure your name is there and the knife quantity you have requested is correct.. A knife, which did not look 'offensive,' as some single blade pocket knife does to some people, who are not into knives and who do not understand how one can carry a knife.
A small knife or tool in a pouch is also out of the question, as that is not an option in some situations. Knives like the Fallkniven U1 and the Boker COX will sometimes be frowned upon, so I considered my options and went back to the good old SAK. I bought a red handled Spartan, as most will not be as adverse to the sight of a SAK as to some other knives. SwissBianco makes some special clips for some SAKs, but Victorinox really need to get with the program and put a clip on some of their smaller knives like the Spartan. Back to putting a clip on my SAK: One option is to cannibalize a clip from a cheapo pocket knife, which most of us have plenty of, Im sure.
NiteIze makes clips which will adhere to most smooth surfaces, so I thought it was worth a try.
I only just now put the clip on there and tried carrying it and taking the knife out of the trouser pocket.
Sometimes I want to be able to carry my Leatherman Juice in the pocket instead of in a pouch.
They are mostly small button battery lights and of course not with this adhesive, but if the quality of their other products is any indication, I thought it worth the few dollars, I paid for the clips. I've carried it on and off, and it's been banged about a bit from being on my belt, but the clip's hold hasn't really been stress tested, due to the soldier's fairly low profile. My only other thought would be grinding a little more off the rounded portion of the clip, just above where the short thin part went in the tweezer slot. The belt clip is top notch, thick, well installed (two torx screws), well polished, and springy.
The belt clip looked a little crooked when I first bought it and a set of calipers confirmed its crookedness. Again - no huge problem - and with it hidden by the pocket clip - I am glad this happened on the back. I have a SAK Trekker in route, so I wanted to try out my mod before I hack on a perfectly new knife next week.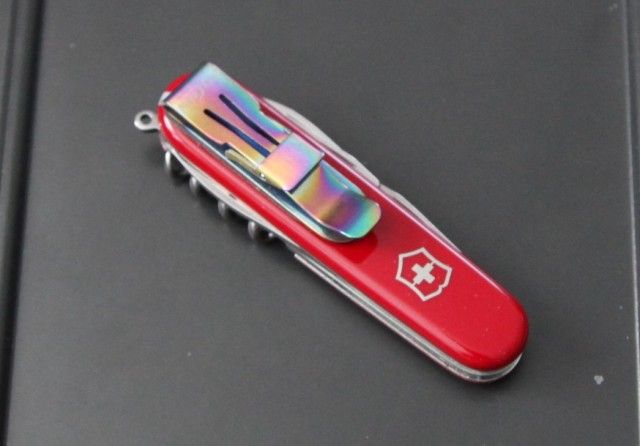 Im sure, they would sell more knives too, as some who now use pocket knives with clips from other companies might consider a SAK the next time. On the other hand, the HipClip is longer, so this might not matter in regards to securing the knife. It has a strong adhesive which works instantly, so you better have figuered out the best position for the clip in advance. This clip is a bit shinier than the anodized eCLIPse, but it will get scuffed in use or I can artificially make it a bit more dull to look at. Im chuffed, that I no longer have to wear a pouch on the belt for the small knife and small(ish) tool.
Time will tell, if the very strong adhesive will be able to keep the clips on the SAK and the Juice.