The Ken Onion Edition is basically a refinement and upgrade to the original Work Sharp (belt grinder) Knife Sharpener (link to review) that I was so enthusiastic about.
I have the original and the only issue I have is due to the guide I can't sharpen all the way down on the base of my blades. Compact and inexpensive sharpening system for quick and safe sharpening of kitchen knives and outdoor knives. This electric sharpening machine is co-developed by the well-known knives designer Ken Onion. The guidance unit can be quickly removed in order to, for example, sharpen an axe or if you prefer sharpening off the hand.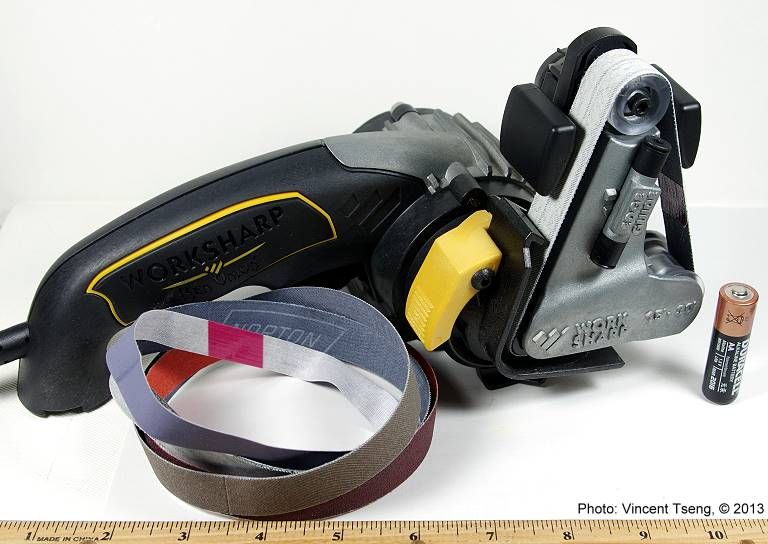 And in addition to knives, it is also possible to sharpen sharp tools such as chisels and axes, spud hooks, scissors and even serrated knives.
Obviously the grinding belts can be changed rapidly which is important because the entire sharpening process requires sharpening with different belts. These grinding belts are actually identical to the belts Ken Onion uses on his full-size sharpening machine.
This machine is in fact a small professional belt-sharpening machine with a guidance system to sharpen knives in an angle of between 15 and thirty degrees. This makes the reach big enough to be able to sharpen both thin Japanese chef's knives and a lot thicker outdoor knives.
The major advantage of sharpening on a belt is that it sharpens a somewhat convex fold in your blade because of the flexibility of the belt. And moreover, a knife with a curved blade can be very well sharpened on the WorkSharp Multi Sharpener.