They usually cost about as much as a normal student level trumpet - in the $500-$800 range. I have been a Buck knife lover for many years and own more Buck knives than I will ever need and that would easily last three life times. On that ledge (that was higher of the table with the most knives) there are only Buck knives into show windows. A custom knife, all nickle silver, black G-10 grips with nickle silver pins, and a S30V blade. When I was ten years old, I use to watch my dad sharpen his 102 buck woodsman knife on the kitchen table.
I have a Buck liner-lock which I carry every day clipped in my pocket - it goes where I go.
Buck's Folding Hunter was created in 1963 when Al Buck decided that a revolutionary lockblade knife was needed by outdoorsmen who wanted a sturdy knife but did not want to carry a long fixed-blade knife. I love the Buck General and the Buck Special fixed blade knives and hike a lot with my Bucks. I carried that knife almost every day in leather sheath that it came in for the next 45 years.
God help us if the Buck Knife Company ever goes out of business and ends up making their 110's overseas. The challenge was to combine the strengths of other folding knives with locking mechanisms into a good-looking, reliable product.
Both knife and sheath are in good working condition and I have used it like I was Daniel Boone! Buck Knife Company realizes just how important a good sheath is and that with the excellent steel used in their knives make them one of the best knives on the market. Two of my three sons have two of my three knives and I share my other with my youngest at this point.
After a few weeks of using the knife for every day basic needs, I was comfortable with the idea that I may not ever need another knife.
BUT USED IT 2007 ON SEVERAL SQUIRRLS AND MY VERY FIRST DEER SO THIS KNIFE HAS SPECIAL MEANING TO ME.
The blade simply said BUCK USA, based on the website information this aged the knife to 1967-1972.
THEN IN 2014 I BOUGHT MY SELF THE 50TH ANNIVERSARY 110 I HAVE CARRIED IT SEVERAL TIMES USED IT A FEW DIFFERANT TIMES STILL HAS FACTORY EDGE ON IT CANT WAIT TO SEE HOW GOOD THE ANNIVERSARY ONE WILL HOLD UP FOR ME . Then he bought a Gerber gator, which he gave to me a while back, he didn't like it a lot, then a Benchmade Barrage, which is his current knife.
As i packed up the knife I thought to myself, "There is no way they are going to fix this knife!" It's been through hell and back.
I enclosed a letter to BUCK explaining that I had no reasonable expectation that they would fix this knife, but I would like to take them up on their one-time 50% off offer for any knives deemed to have been abused. The blade is still sharp and straight (amazing considering how many times I have used it as a small crowbar). I explained how I would like to purchase the 50th anniversary 110 and asked them to contact when they decided not to fix this knife so I could purchase the new 110. I expect that this knife will become my son's heirloom and he will give to one of his son's. 420HC steel sharpens up really nice with just a Smiths Pocket Pal sharpener, and keeps that edge!
I was greeted by a nice young lady who explained to me that the knife had been received and that it was in repair.
These are excellent knives and I am happy to pass on the legacy to each of the boys and one daughter. It wasn't until after I sent my 110 in for repair that my son asked for one for Christmas and suddenly my knife gained sentimental value; of course, I had not indicated that on the repair form. It seems like the fine folks at Buck Knives know that every Buck Knife does have sentimental value-even when their owners haven't learned it yet.
I'd like to thank Buck Knives and the especially the Artisans who handled my repair for a job well done.
This knife has been everywhere and gone through unimaginable things with me and is still going strong to this day. Now my only thing with this knife is the brass tarnishes real quick, but with a little elbow grease and polish it will come out beautiful.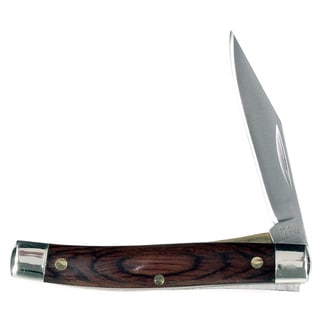 IT SNOWED FROM 7 PM TILL 8 AM NEXT MORNING I WAS OUT ALL NIGHT WITH A FRIEND DOING SNOW REMOVAL AND MIGHT KNOW THE ONLY KNIFE I HAD WITH ME WAS MY BRAND NEW BUCK 110. No need to improve on, "If it ain't broke, don't fix it." This is a true classic (and durable) folding knife and makes me proud to carry one on my everyday dress. PROBABLY NOT A GOOD IDEA TO USE A $73.00 KNIFE THAT WAY BUT I BROUGHT IT HOME AND USED HOT WATER AND DAWN DISH SOAP AND GAVE IT A VERY GOOD CLEANING.
TOLD MY DAD WHAT I DID WITH THE KNIFE ALL NIGHT HE TOLD ME I WAS CRAZY TO TAKE SUCH A EXPENSIVE NEW KNIFE OUT AND USE IT THAT WAY. IN DECEMBER 2012 THREE DAYS AFTER CHRISTMAS I ORDERED A BRAND NEW 2012 BUCK 110 AND IT HAS BEEN A VERY GOOD KNIFE TO CARRY EVERYDAY AND USE CAMPING ON WEEKENDS.
I HAVE OTHER BUCK KNIVES AS WELL MOST FIXED BLADES FOR HUNTING AND A 309 COMPANION FROM 1999 THAT I GOT IN 2000 FOR A HIGH SCHOOL GRADUATION GIFT STILL HAVE THE 309 AND ORIGINAL BOX AND PAPERS TO IT. I WOULD NOT USE THIS KNIFE THIS WAY AGAIN INSTED I WOULD USE MY BUCK 303 CADET THAT IS MY EVERYDAY CARRY IF I REALLY HAD TO. I LIKE ALL THE BUCK KNIVES I OWN BUT THE 110 IS MY FAVORITE I GUESS BECAUSE THE 1974 110 I TRADED FOR IN 1999 WAS THE ONLY KNIFE I HAD AT THAT TIME TO HUNT WITH .
THE BUCK 110 GETS CARRIED EVERYDAY AND USED FOR A WORK KNIFE AND USED CAMPING ON WEEKENDS ALL THE TIME I HAVE OPENED MANY BOXES AND BAGS OF ICE FOR MY COOLER . THEN IN JULY 2014 I ORDERED ME THE 50TH ANNIVERSARY 110 TO JUST PUT UP TO USE AS A SHOW KNIFE DUE TO IT BEING THE 50TH ANNIVERSARY I DO NOT PLAN ON EVER CARRING IT OR SHARPENING IT AT ALL. THEN IN JULY 2014 I ORDERED ME THE 50TH ANNIVERSARY 110 TO JUST KEEP PUT UP TO USE FOR SHOW KNIFE. Over the years i tried many custom knives from D2 steel and so on but always came back to buck.