I then start cutting out random glass tiles from the mosaic pieces to substitute the stainless steel tiles.
I used glass tile mortar because for the obvious reason that I was using glass tile, and other types of mortars have trouble sticking to glass tile, especially the handmade tile that had no mesh backing. These days it's the addition of stainless steel appliances that can help give a kitchen an updated, modern spin. I also cut squares of stainless steel tiles which would surround and highlight the accent tiles. Maybe I am remembering tiling my downstairs bathroom last year through rose-colored glasses, but glass tile mortar seems to harden faster than the normal, pre-mixed mortar I used last year. Grout with sand could have scratched the stainless steel, and epoxy grout was recommended for glass.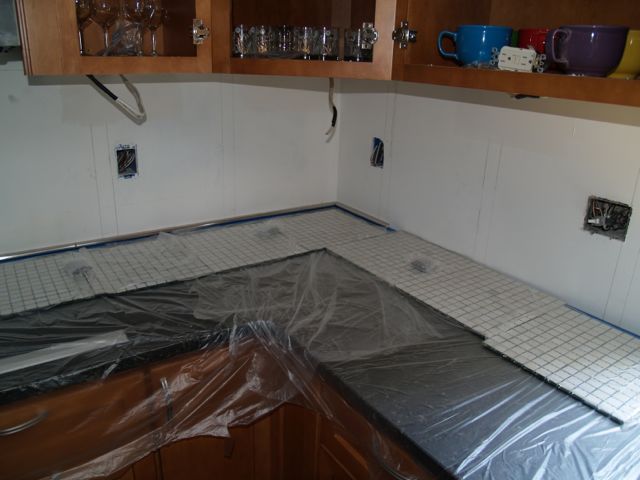 I chose that color because I thought it would match the stainless steel the best, and any color gray would compliment the glass tiles nicely.
The area behind the cooktop has three different accent tiles, which like all the accent tiles are outlined in stainless steel tiles.
I needed to continue the edging tile to cover the gap between granite and the wall, but I didn't want to continue the field tile out  past the upper cabinets. I started by covering the countertop with plastic, and then laying out the tile determine how to space accent tile and stainless steel tiles. It took me about nine full hours to layout all the tile, cut out all the glass tiles to substitute in the stainless steel and accent glass tiles, spread the mortar, place the tiles, and also cut tiles where need be.
I finally decided to stop the field tile at the end of the cabinets but just continue the edging tile row out to the end of the granite.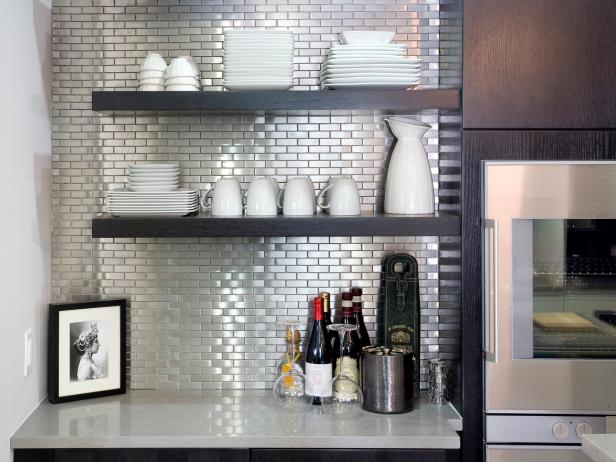 Keep in mind that a stainless steel backsplash can be used both at the sink and the stove, and it can work well alongside a stainless steel vent hood with a quiet kitchen exhaust fan. Through a little bit of luck and planning, I was able to minimize the number of tiles I needed to cut. I was going to use the metal cutting blade to cut through the stainless steel exterior, and then switch to the diamond tip tool for the ceramic interior, but it turns out the metal blade can cut through the ceramic fairly well, or at least good enough for what I was doing.