30-Days of delicious easy-to-prepare food for one person plus a plastic self-filtering water bottle, quick-light fuel source - FireOn, and meal planner, all packed in an easily transportable, watertight 6 gallon pail. Augason Farms 30 Day Food Storage Emergency All-in-One Pail is your survival essentials solution. Items sealed in the 30 Day Food Storage Emergency All-in-One Pail have a shelf life up to 20 years.
This waterproof pail contains enough food to provide 1,857 calories per day for 1 person for a month, or a family of 4 for a week. The pail also includes a safe, stable fuel source and a self-filtering water bottle that can clean up to 100 gallons of water. The emergency pail would take approximately 18 gallons of water to rehydrate all of the included food items.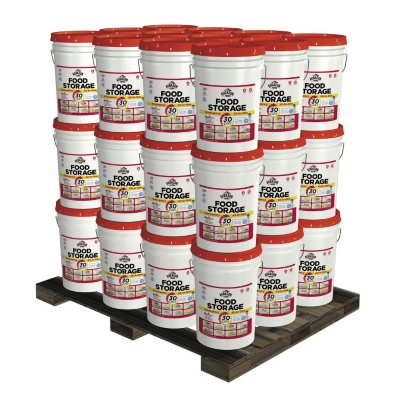 With the Food Storage Emergency All-in-One 6 Gallon Pail you're not only getting a reserve supply, you're getting delicious peace of mind.