The were small by modern fixed blade standards, almost too slim looking, but they worked well.
Sometimes they even had a small hatchet and the leather handle knife in a piggy back sheath. Once I happen to be sitting on a crate that was next to the chair occupied by the infamous Bill, and while they were talking he reached back and took out his knife and stropped it carefully on his boot top.
I guess that was the signal, because every one of the trading post loafers then pulled out thier pocket knives and I got to see some good ones.
I've never handled the original Kabar fighting knife, I just saw this short one in Mexico and couldn't resist getting it, it's fine I guess though a bit on the rough side, I reprofiled it to a thiner edge, which was not too easy on the saber grind, but it did get quite sharp with a much smoother edge than it came with.
Case pattern 3 FINN, first made in 1937, the M3 FINN with a 3" blade is I think still being made. A photo gallery of quallity hand forged Damascus knives, Bowie knives, art knives, hunting knives and utility knives.
Everything you need to know about deer hunting and whitetail deer including deer anatomy, field dressing, hunting the rut, deer habitat, shot placement and more. When I was a kid you could always tell the seasoned outdoorsmen, they would have one of these little leather handle knives on thier belt, and the leather handle and the sheath would be a dark weathered brown with some water stain here and there. There were Utica's and Imperials with bone handles, a Case or two was shown, and then everyone was looking at me. Slowly I took out my Boy Scout knife my dad had given me a couple of Christmas's ago and handed it to Bill. I used to carry that little Boker in a back pack, never on the belt, that's why the sheath looks like new I guess, it's a handy knife though a bit small handle, funny that in Mexico we see so many German knives and not so many from the USA, I do have a leather stacked Kabar (the newer short version of the well known US military pattern). This was before the days of Knife collecting, when parsimonious working men would live within thier means and one piece of gear was enough.
It was the standard knife for generations of outdoorsmen in this country, much like the lever action 30-30 was to rifles.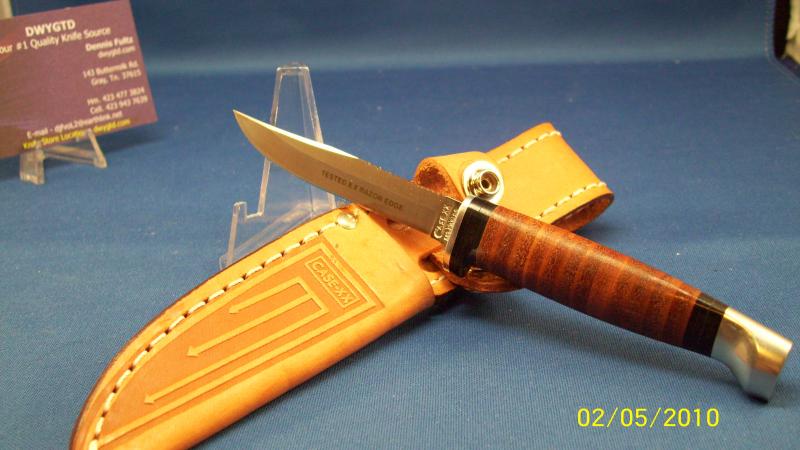 It was said that a real outdoorsmen would be able to do anything with that knife and hatchet combo. They were made by companies like Case, Western, PAL, Ka-bar, and I think even Queen had one. Anyway, that outdoors knife was of a type that I don't think is made anymore, but I miss very much. I'd watch as Bill took out his knife and slowly slice off a bit of cheese for himself before taking a seat in the liers circle.