I made cards for my relations and friends since school time and everyone said they were so creative. I love those butterflies a lot.Last one is a Penny Slider card I made for my sister-in-law's birthday. I love both as they look very beautiful at the end.My first double slider card didn't work properly and I had to throw it away as it teared.
The cards you have dedicated to Agnes I am pleased to show on the website and I am sure that Agnes will be overjoyed with your creations.Thank for sharing this story and I am delighted to have contributed to your cardmaking.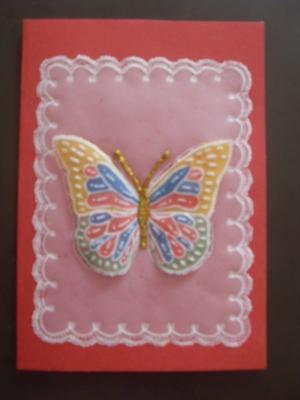 The colours you have used are fresh and I esecially love the ribbon flower on the red card.The instructions to make this card can be found in the Video Tutorials section and there are also written ones if you prefer to learn that way.
It is so very kind of Agnes to send you the "Goodies" and it really makes your heart melt to know that there are people like her in the world.I have no doubt that you will make many more beautiful cards and I hope you will continue to add them to the Gallery. I think it cannot be seen when the cards are finished decorating.Normally I use many of your techniques now. The instructuions for all these cards can be found in the NavBar to your left and most of them are in the Easy Projects section.You will also find the video instructions for some in the Tutorials section.