25.03.2014
Dan Kiley is one of the most significant and influential landscape architects of our time but his work is in danger of slipping away. A lack of public support and awareness, however, threatens to destroy Kiley's landscape legacy with "quiet deaths" from outright destruction to careless alterations.
Visiting the exhibit was a personally rewarding experience that brought back vivid memories from my trans-America landscape architecture trip. Though I enjoyed the exhibit, I worry about efficacy of the compendium on non-landscape architects and those who haven't visited Kiley's work in person. Throughout history—with the exception of the great Olmsted, of course—it seems that landscape architects seldom find their way into the design spotlight. The small compendium showcases 27 of Kiley's most celebrated modernist works, each carefully selected to show the wide breadth of his design talents from Pittsburgh's quirky Agnes Katz Plaza to the "Modernist Mecca" Miller House and Garden.
The exhibit displays each of Kiley's works with one or two photographs of the landscape project accompanied by a brief history of the site, a plan view, and a quote by one of Kiley's landscape architect colleagues.
Photographs are a poor substitute for the multi-sensory experience of Kiley's landscapes, particularly the designs that highlight the sights and sounds of water.
The loss of these historic landscape architecture works is a disservice to the discipline and future generations who lose the joy and opportunity of exploring these landscapes in person.
Influenced by French landscape architect Andre Le Notre's 17th century gardens, Kiley weaved together hundreds of modernist landscapes with his signature grid and geometric planting plans that reinforce the notion of landscapes as outdoor rooms, rather than mere window dressing. I was pleased to see many of my favorite landscapes featured in the exhibition, including the Art Institute of Chicago's South Garden, which according to Peter L. TCLF's biannual What's Out There Weekends, on the other hand, bring people on narrated tours of significant, sometimes threatened, landscape architecture works across the nation.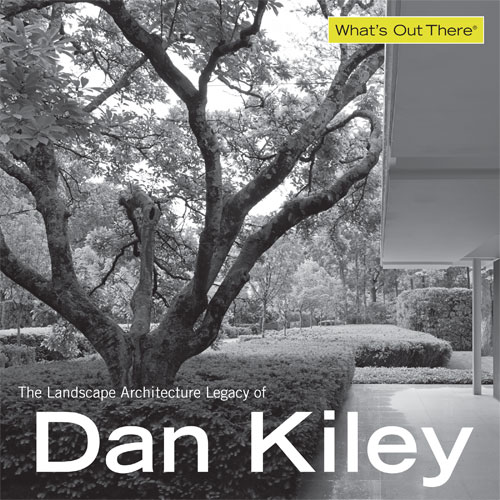 I suspect that these tours have a longer lasting effect on both professionals and non-landscape architects. Hopefully, however, this exhibit will spur landscape architecture professionals and students into similar outreach efforts and encourage more dialogue and debate on how best to preserve threatened landscape architecture projects.