08.03.2014
By using my own garden as example I am reminded of Elizabeth Schwarzkopf who only played her own recordings on Desert Island Discs.  Nonetheless I know my own garden better than anyone else's and am all too aware of visitor's comments on it. What I did strive to achieve was to give the garden a continuity as one walked round, and a sense of moving through from area to area.  The public get this one very much and say that although it is a 4 acre garden it doesn't feel like it.
Because in my work as a garden designer I like to give my clients 'bones' to their design I plant a lot of evergreen – very little coniferous, though I love yew.  The result is that in winter I have a green garden, against which early flowering shrubs such as winter sweet, winter jasmine, Cornus mass and all the hellebores really show up. I hope that people get the shape thing in both the design and then the planting overlay to it.  Just as shapely!
Mrs J.R also put in a dry gravel stream which runs through one part of the garden, and which has become quite a feature.
We completely rebuilt a Victorian conservatory about 10 years ago, which includes a large aviary (I often thinks this gives more fun than the whole garden!)  After last winter's snow a sunken Victorian stove house roof has caved in and this must be restored next.  I think that it is important that these buildings should be seen and kept.
Gardening is to do with continual regeneration, it is never ending but in a nice way.  I think the visitors enjoy seeing these processes.  And many say how seeing the weeds comforts them in their own efforts! With this in mind one has to question the over importance of novelty out there, and many of those tele catching gardens we are about to see at Chelsea again.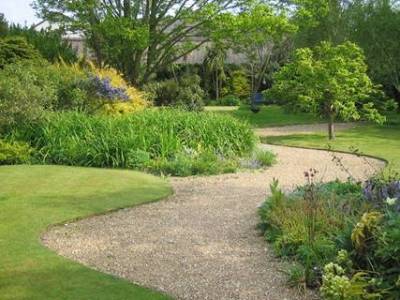 Russell Page Exhibition reviewed by Francois Gordon Russell Page is being honoured at present by the Garden Museum in London.