22.03.2015
Commercial and Residential Flagstone Experts - Professional Flagstone Consultants, Handlers with locating and delivering the raw material to your property, Saw Cutting, Chiseling, Snapping, Installing, Chipping, Grinding, Grouting, Sealing, Repairing, Replacing in the greater Santa Barbara, CA area. A favorite natural element for professional landscape enhancement at residential properties, entry areas, patios, walkways, and the like is one of many beautiful variations of design and installation of flagstone.
Your typical flagstone project will involve a lot of muscle, skilled use of hand tools, and years of combined experience to deliever a professional, life-long lasting result. Incorporating flagstone in to your property is one of our favorite specialties as we really love to see how it brings beautiful, natural flowing designs so cleanly and clearly it makes our work look good too. Whether you like your flagstone in pieces small or large, enhancing your landscape or interior flooring with natural beauty is a sure bet to please onlookers. After years of enjoyment your property will grow to the full potential with flagstone elements throughout.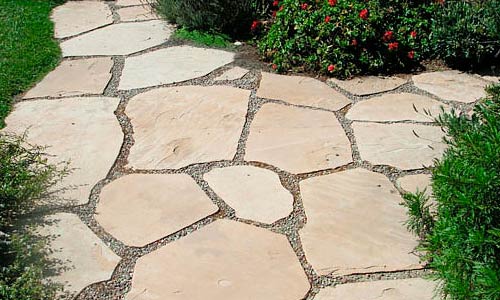 Improve the value of your property and attractiveness of your landscape with expert assistance from our flagstone team.
Your flagstone enhancement will greatly improve the feeling and appearance of your property. We finish flagstone with a variety of designs including chisel cut, saw cut, natural cut, and custom shape cut, all to bring you the desired look and feeling you are hoping for at your property. Flagstone is a valuable asset to your property since it increases the resale value by as much as 100% of the money it costs to have the work done. Whether you have ideas of your own or are hoping to get some feedback from one of our flagstone experts, we especially love working with flagstone and would love to help you with your decision making process.
We build sustainable landscapes with flagstone enhancements sure to satisfy your eyes and provide entertainment you and your guests may enjoy for many years to come.
Our team can face walls, chimneys, structural foundations, fireplaces, fountains, and more to your designers taste or your preference.
Plus, with great relationships throughout the country and beyond, you can be sure we will acquire even the most exclusive and hard to find material to complete your flagstone and related landscape improvement project.