28.06.2014
The last time I walked through my favorite craft store, I noticed that they had an entire aisle devoted to adorable items you could use in a fairy garden. Winter is a great time to create the accessories needed to make a fairy garden for indoors or out.
Jeanie Merritt says, "For those of you who might like to make a fairy garden in the spring,watch for Christmas ornaments of miniature things that can be used in your fairy garden next year.
Fairy Garden shopping on Amazon  <– All sales through this link benefit our page expenses!
Jean's sense of scale is particularly fine when creating her miniature gardens and they all seem, not too big, not too small,…just right!
Links to any page on this blog are always appreciated and photos may be used with a link back, provided that full and clear credit is given to Sherri Osborn at Mother's Home. So, although there are resources for buying fairies and other accessories, most of these ideas below are very homemade.
Use a plastic dishpan, an enamel pan or a flower pot, Fill an old wheelbarrow, crate, a window box or a galvanized tub.
Christmas ornaments, such as small houses, animals, mailboxes and even angels and fairies, can be purchased for barely anything and then incorporated into your garden next spring. I think I'll start looking for ornaments and such for a future fairy garden I can create with my grandkids. I've got sooo much to think about now and sooo much planning to do before I build mine. When I saw her themed fairy gardens, she made this summer,…in one summer, I was delighted and amazed!  She has a talent for finding just the right accessories from very unique sources and making small details herself which we love here at Flea Market Gardening. I did manage too drag myself away without any of it once I convinced myself I could make a fairy garden using stuff I already had at home. Transform an unused cold frame, an overgrown pond or even a kettle bbq into a miniature garden!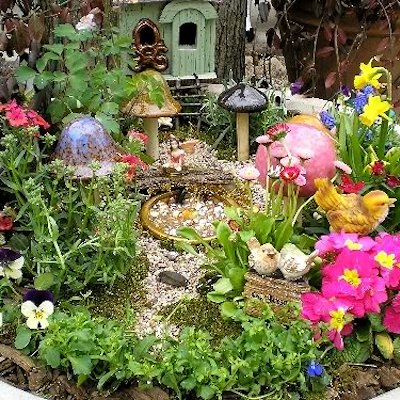 Tiny 'furniture' can be made with twigs and twine and there are many sources for fairy figurines.
The fairy garden stone sign is from a shop in Hamilton, Ohio and the the pink flower is alyssum.
My sil gave me some mini Christmas houses last week that she was not using anymore and I will add them in this year.
What you see in this photo is dried moss pressed into the cement but later we found moss growing in the yard, cut out slabs of it and pressed that on the house.