22.11.2015
I wish I had a wide enough enough windowsill to start herbs in little pots – that is so cool! This weeks Saturday Inspiration post is packed with ideas for all types of mini herb gardens to get you thinking outside the planter box. I have just started my little herb Garden, and I also want to create a sky garden and wall garden decoration, what a wonderful picture that's all I am looking for. At first I thought it was all from your garden and couldn't figure out how you had time to do ALL that gardening and blog. I love spices and often give spices or herbs as a gift to my friends and they really enjoy taking care of the plants.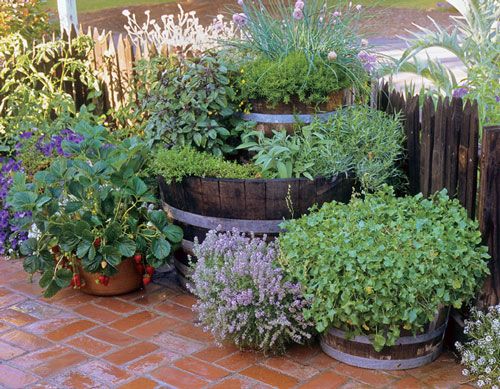 If you're tight on space, opt for ceramic pots or unusual containers like mason jars, tea pots, and old soup cans.
In summer those of us who have some gardens or balconies, organize growing herbs outdoors, so I've prepared some ideas and inspiration.
It was truly rewarding and something I will definitely continue to do each year.I kept the herbs in a few planters on the deck last year and have to say it was extremely convenient to have them within an arms reach to use every chance I could. As I am a little hooked and excited to put together our herbs for this year, I thought I would share some Herb Container Gardens for this weeks Saturday Inspiration and Ideas. Of course to have them on your kitchen or right outside your kitchen door you need to organize a thoughtful herb garden that also looks great.
Take one of your plants earmarked for the side and plant it by gently pushing the plant material from the inside out and filling the container with more soil until you get to the next side opening.