01.08.2014
The most significant cause of death in patients with diabetes is cardiovascular disease (70%), followed by renal failure (10%) and infection (6%). The degree and duration of hyperglycaemia play an important role in the likelihood of developing complications.
Intensive treatment of diabetes only has a small effect on cardiovascular risk of patients with diabetes. Early treatment of diabetic retinopathy with laser photocoagulation can reduce vision loss by up to 60%. Up to 70% of patients with diabetes have varying degrees of damage to their nervous system. Diabetic neuropathy can present in a range of different combinations of sensory, motor and autonomic symptoms.
People with diabetes develop foot ulcers as a result of a combination of diabetic neuropathy, peripheral vascular disease (due to atherosclerosis) and foot deformity.
Wound environment - dressings should be used to remove exudates, maintain moisture and prevent infection.
Keeping HbA1c at 7% results in a 60% reduction in complications in patients with Type I diabetes. It is therefore important to take a holistic approach and tackle coexistent cardiovascular risk factors e.g. Every year 12% of people who are registered blind or partially sighted have diabetic eye disease; it is the leading cause of blindness in young people.
Patients with diabetes should inspect their feet regularly, avoid trauma, and regularly visit a chiropodist.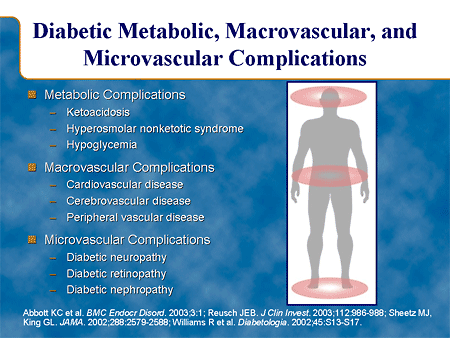 Motor neuropathy can also contribute as it can lead to intrinsic muscle weakness and splaying of the foot on weight-bearing. Multiple fractures can result, which go unrecognised until marked bone and joint deformities occur.