As a general rule, young dogs and very old dogs don't have the physical characteristics to support high-impact exercise such as running. There will be some dogs who, despite being the ideal breed, age and health, do not like running.
The great thing about running is you can do it any time, almost anywhere and it doesn't cost anything.
After each run, check your dog's paws for stick injuries or abrasions (especially the pads) and check for grass seeds between the toes. If you notice any change in your dog's ability to keep up, foaming at the mouth, heavy panting or glazed eyes -immediately contact your veterinary team.
Puppies have bones and muscles that are still maturing, so it's important to wait until they are fully grown (at least one year old) before you start running with them, especially if it is for long-distance running. For dogs carrying extra kilos, it's a good idea to start a weight loss program before you introduce them to regular running.
If possible, take a collapsible water dish or run a route where you know your dog will have access to clean water. However, all too often we see dogs behaving badly en-route – herding their owners, running off course, getting distracted by other dogs or simply laying down in protest.
If your dog has a medical history of hip dysplasia or arthritis, running may actually worsen the condition, so it's best to seek advice from your veterinary team before you start.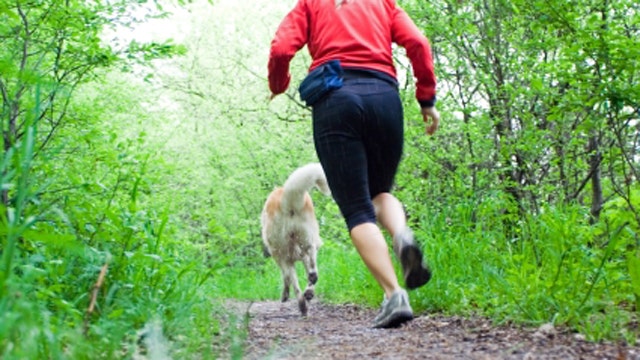 Never use a choke collar as it can collapse your dog's trachea (windpipe) – this can be particularly dangerous if your dog is already panting and short of breath. The best type of lead is a relatively short (1-2 metre) lead attached to a standard collar.