Motivation to Quit Smoking: This post is packed with inspirational quotes and sayings to help smokers give up not just cigarettes, but a habit that kills. 3) Smoking cigarettes is like paying to have your life cut shorter – the most foolish thing anyone can ever do.
4) Smoking does not make you a KILLER per se, but your heart will drown in GUILT if second hand smoke gave someone in your own family a life-threatening disease.
6) Don't let being on a ventilator ultimately become the reason why you eventually quit smoking.
12) If you really want to quit smoking, just replace the word TOMORROW with TODAY and LATER with NOW.
18) There is no greater sense of self-confidence than to look back at how you broke free from the shackles of smoking because if you can do that, there is nothing in life you can't do.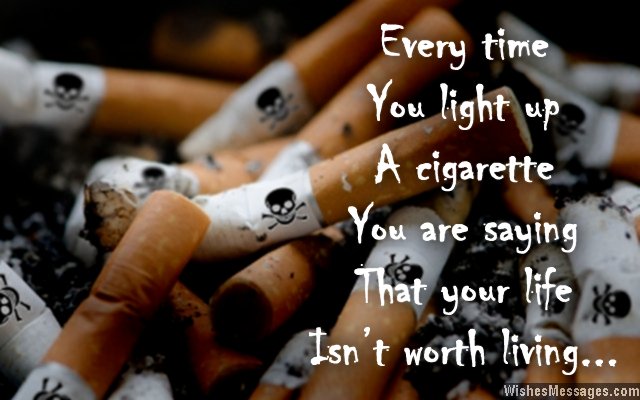 19) Quitting cigarettes might be the hardest thing to do in life, but at least you will have one. 22) Instead of saying 'I Wish I Had Quit Smoking' on a hospital bed, your future will be much better if you say 'I Am Glad I Quit Smoking' while you are enjoying life to the fullest.
30) Just imagine the day when you can update your Facebook status and say 'It has been one whole year since I quit smoking'.
33) Smoking may not make you an evil person per se, but it leads you on path which has evil consequences. 37) Thinking about how many minutes of your life you are cutting with every smoke is one way to motivate yourself to quit smoking. Why wait until TOMORROW when you can quit smoking TODAY, and why wait until LATER when you can quit smoking right NOW.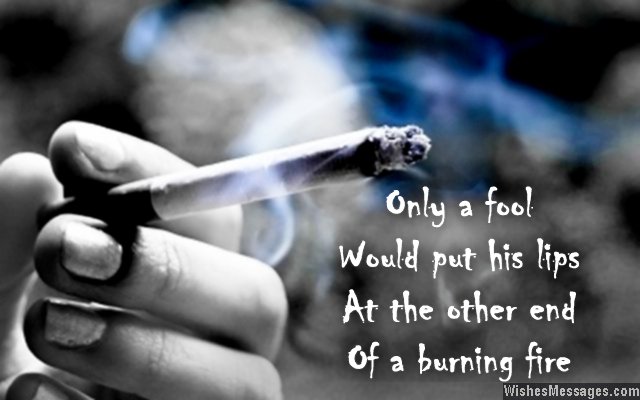 But a better way is to think about how many minutes you will spend suffering in the pain of life-threatening diseases when smoking takes its toll.
You will be partly responsible if your child starts smoking cigarettes because children grow up to imitate mommy and daddy.
Quit today, unless you want to face the guilt of pushing your children into this ugly habit which you have been fighting with forever.
From the brain to the heart attack to oral cancer, the health effects of smoking are life-threatening.