Take this quiz to find out if you're a clutter bug, and if you are, what to do about it while still loving and accepting yourself. This quiz is meant to help you assess whether you have some habits that could lead to clutter taking control of your house, either now or in the future. If you answered more than half of the questions above with a "yes" you are most likely a clutter bug, or on your way there.
Even if you aren't feeling like you've got too much clutter right now though, if you answered yes to several of the above questions and you continue with some of the habits you currently have you may one day wake up with lots of stuff in your home that is robbing you of peace.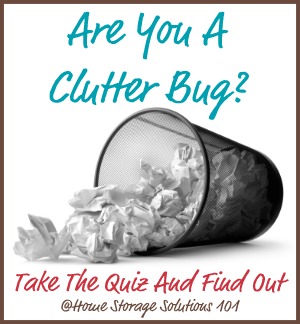 Therefore, the next step is to tackle the mental and emotional part of being a clutter bug so we can begin to create and maintain new habits that will get us to the peace of mind and joy of heart we desire in our lives. Remember, habits can be changed, and if your house is currently cluttered, it didn't happen overnight, and the fix won't happen overnight either. Life can be very busy and hectic, and decluttering and then maintaining a clutter free living area takes some work. Join over 150,000 others and get tips, articles and organizing challenges sent directly to your inbox to help you get your house in order.