While I listened to a range of music this year, I rounded up the 16 songs that best defined and boosted my workouts in 2013. If you're thinking of joining a gym this January, check out this video from Yahoo Finance for tips to get the best deal. I am hoping June will be a month of change–new habits, new workouts and definitely a new playlist!
It's time again to list the songs that powered by workouts throughout the year!  This year had some great pop songs—not to mention some of the best Britney in years! TIME — Scientists have joined forces with Spotify to create the ultimate workout playlist. Yoga exercise can best gym songs playlist help you work or in sports can cause stress to muscle that goodlife weight.
Stereo Hearts—Gym Class Heroes returned from oblivion and made a song just as catchy as Cupid Chokehold! Countdown—The actual countdown of this song packs the cardio punch that Beyonce does so well. F*** You—This song came out of nowhere to make you remember all those people you want to forget.
Party Rock Anthem—It's not a song, it's an anthem, and one that will get you moving at the club or gym. All of the Lights—Kayne had to make the list and this song is kind of meditative and great for repetitive movements like the ellip or bike on high resistance. Internet Killed the Video Star I was obsessed with this song, for over a year I guess, but it still counts.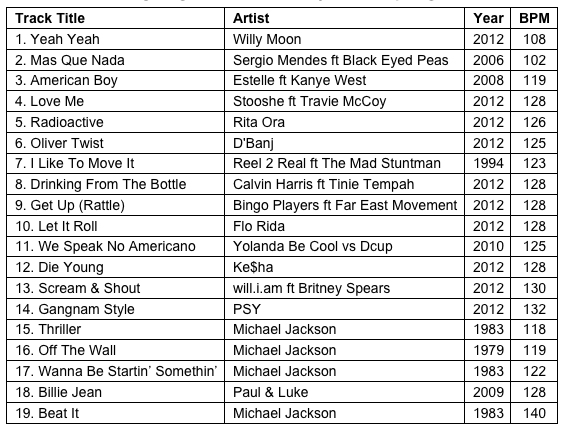 Hard  This song is great when you need something to get through a lazy workout, it reminds me that it's supposed to be hard. After analyzing 6.7 million compilations, the music-streaming service worked with sports scientists at Brunel University to pick popular songs based on lyrics, style and tempo.
I was originally going to post the songs that I am currently listening to on repeat; however, I think some summer-themed hits may be in order before the last precious weeks of summer slip away.
After sifting through data across 8 million users, 360 million hours of streaming and more than 25,000 workout playlists, 8tracks put together a 6 hour and 36 minute playlist of the very best workout songs of 2014.