This farm-to-table pioneer almost singlehandedly exploded the alfalfa sprouts-and-tofu stereotype of vegetarian cooking more than 30 years ago. Hefty portions of spicy, flavorful and inexpensive South Indian food make this Mission District staple one of the most popular vegetarian restaurants in the city.
White tablecloths, fishnet chandeliers made from recycled paper bags, faux-lizard leather booths, and a zinc-topped bar set the tone for the city's most elegant fine-dining vegan restaurant, located in the heart of the theater district. Gracias Madre (2211 Mission St.)Mexican food can be challenging for a vegetarian, not to mention a vegan, but Gracias Madre is here to help. Greens (Building A Fort Mason Center)For a true San Francisco institution dedicated to vegetarian cuisine, look no further than the legendary Greens, overlooking the Bay in historic Fort Mason. Kin Khao (55 Cyril Magnin St.)Thai is often a safe bet for vegetarians and vegans, and Kin Khao is a more stylish and truly authentic place to try than your usual Thai joint.
The Mission restaurant offers all vegan dishes, using regional Mexican recipes and local, seasonal produce. It was opened in 1979 by the San Francisco Zen Center and has been making vegetarians (and the diners who love them) happy ever since. Owner Pim Techamuanvivit is well know for her food blog, Chez Pim, and her new restaurant features many dishes rarely found outside Thailand, in a fun atmosphere with cocktails and a wine list well-designed to pair with the bright flavors on the menu. The vegan Japanese restaurant offers more than 40 original items—none of which feels like it would benefit from the addition of meat. The food is entirely meat-free, so vegetarians can order with abandon, and vegans will also find plenty to love. Their chefs have produced some of the most respected vegetarian cookbooks in publication, the views are spectacular and the service is refined.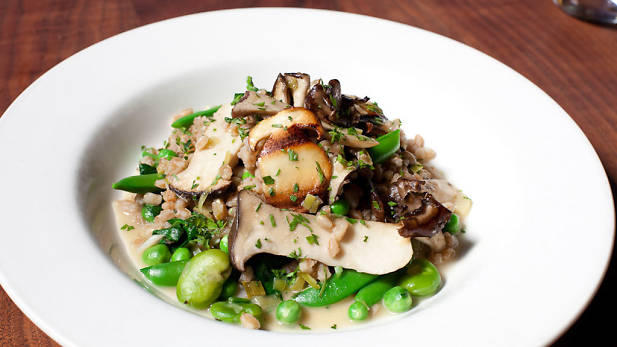 Fortunately, this is San Francisco, a city full of places that celebrate vegetables as much as meat on the plate. Their sformato is always vegetarian and the raviolo di ricotta with an egg inside is another winner. Both are great places for a vegetarian, vegan and omnivore to enjoy a good meal in harmony.