The march was still absolutely necessary to bring people together and show that the vast majority of people in Tower Hamlets oppose the EDL's divisive politics.
Socialist Party leaflets called for the demonstration to be a springboard to unite the local community around opposition to government spending cuts as well as opposing racism and social division. As the Con-Dem government spending axe comes down on jobs and public services, the best way to stop racist groups like the EDL turning anger against the government into racism and divisions, is to build a strong fightback of workers' organisations united together with youth and local communities. There is also video footage of an EDL supporter throwing a firecracker, which apparently hit one of the anti-Jubilee crowd, burning his hair, much to the pleasure of his attackers, who admitted in gloating Facebook comments to throwing bottles as well. Based on Facebook comments, one of the Infidels' supporters involved in the Newcastle confrontation was an individual who goes by the pseudonym of Sir-Northeast Markio. Another participant from the neo-Nazi milieu was a National Front member from Sunderland named Paul Birleson, who stood as an NF candidate in last month's council elections.
The EDL's claim that they are not part of the far right, but are merely a non-violent human rights movement whose aim is limited to peacefully protesting against Muslim extremists, is so laughable that you wonder why they insist on holding themselves up to ridicule by continuing to repeat these lies. Unless, of course, the minority in question fails to share the prevailing view about the monarchy and the people offering violence are the EDL. Update 3:  Hope Not Hate have identified the thug who threw the firecracker and burnt the young anti-Jubilee protestor. This entry was posted in Analysis & comment, English Defence League, Far right racists, UK by Bob Pitt. Een kleuterleidster die ervan beschuldigd wordt pedofiele handelingen te hebben gepleegd, kan onmogelijk komen werken en doen alsof er niets aan de hand is. Er moet eerst klaarheid komen en zelfs indien ze van alle blaam zou gezuiverd worden, zou het beter voor iedereen zijn dat ze van school verandert. Een sereen onderzoek en daarna een serene job in een serene context in een serene omgeving. Dat de dame in zo'n concentratieschool is gaan lesgeven is misschien omdat ze werkzekerheid wenst. Die durft zich niet laten horen, ze zou de kant moeten kiezen van de juf en dat zal moslim stemmetjes kosten he. Alleen hebben er een paar brave poco luitjes van de gesubsidieerde kifkif site die tekst snelsnel weten te kopieren zodat ze die nog eens regelmatig kunnen gebruiken.
Tja, als je een impressie hebt van iets , dan heb je er een en dan dien je dat ook zo te schrijven. Als ik dus zeg: 'Deze zomer trekt op niks' wilt dat niet zeggen dat alle zomers op niks trekken, en wilt het ook niet zeggen dat de zon nooit heeft geschenen tot nu toe. En als we op het intellectueel niveau van migranten aanbelanden, moeten we er zeker niet aan denken om de literaire toer op te gaan. Het wordt tijd dat er een frisse wind door het land jaagt, zowel voor politici als voor de pers. Als het om een juf met een bruin kleurtje had gegaan, dan had je haar waarschijnlijk niet het voordeel van de twijfel gegund en hier een post begonnen over verkrachtende moslima's.
Islam heeft er alles mee te maken, het betreft hier in den beginne 1 ouder uit een klas met 10 kinderen die hysterisch begon te doen met erg zwakke argumenten.
Islam maakt dom en achterlijk, islam zorgt voor getto's, islam zorgt voor sexuele gefrustreerden, islam is een pest.
Inderdaad nog veel erger dan de kerk ooit was,; daar kon je tenminste nog je rug naar toekeren. Eerlijk gezegd kan het mij in se nog weinig schelen wat er vroeger is gebeurd, wie waar en waarom een bloedbad heeft aangericht.
Even de honderden doden in gedachten houden die door hun eigen meute ondersteboven werden gelopen omwille van een paar tekeningetjes? Het feit dat het westen zowat dagelijks moslim landen bombardeert heeft er misschien ook wel iets mee te maken dat moslims zich nogal geviseerd voelen. Dit heeft niks te maken met bombardementen in sommige van hun thuislanden (Afghanistan tegen de Taliban? Het kan natuurlijk ook zijn dat ze zich zo'n gedrag toeeigenen omdat ze overlopen van misplaatste arrogantie gemixed met een soort naiviteit. Daarom vallen ze vrouwen aan alsof het hoeren zijn, daarom proberen ze ons een slecht geweten te geven, stikjaloers omdat ze weten dat ze er zelf niet kunnen komen, al dat moois maar nog steeds buiten bereik voor de gemiddelde moslim.
Jammer, maar niet onze schuld, ze moeten leren in eigen boezem kijken om vooruit te geraken. Bepaalde intellectuelen in de VS verwijzen ook naar die Europese 'zwakheid' om niet om te kunnen gaan met migratie als een van de redenen voor de Europese Economische teloorgang. Zoals de indianen in Noord-Amerika ook een bepaalde 'zwakheid' hadden om te kunnen omgaan met migratie zeker?
Socialist Party members from Waltham Forest and across London joined the hundreds-strong protest against the racist English Defence League (EDL) today, 27 October.
Following the successful humiliation of EDL hooligans in Walthamstow by anti-racist protesters and local young people on 1 September, the racists, in an attempt to save face, had vowed to return today, threatening to 'unite the right'. The massive local campaign against the EDL led to the police banning them from marching and holding a static protest in the borough. No doubt residents were relieved that this racist, hooligan organisation was not able to bring people into our area to try to spread its racist lies and create division and tension.
But scandalously, the ban against the EDL was also applied to the thousands of local residents, workers and young people who were preparing to come out and march against the racists.
In fact the ban on all protests has been applied to the whole of Waltham Forest for 30 days and stretches to three neighbouring boroughs, Newham, Islington and Tower Hamlets.
Anti-racist protesters setting up stalls in preparation for the protest were harassed and harangued by police and council security. Scandalously a letter signed by the local Labour MPs, John Cryer and Stella Creasy, who was given an opportunity to speak on the platform of the successful anti-EDL mobilisation on 1 September, jointly with welfare-smashing Tory Iain Duncan, included the line: "We call on everyone who had planned to demonstrate, especially those who have no connection to this borough, to stay away and allow the community to get back to normal", a further attempt to demobilise the opposition to racism among ordinary people. A huge police presence with hundreds of police and with dogs, horses and dozens of police vans added to the clampdown on the democratic right to protest. Socialist Party members were angered when the police informed them that they were preparing to allow the EDL to assemble at the town hall if they turned up. The Socialist Party has been part of the local campaign against the EDL's plans to march from the off.
As well as building opposition to the EDL in the trade unions, workplaces, colleges and communities, inside the campaign we have argued against an uncritical platform for Labour politicians who are cutting jobs and services at council level and providing no opposition to austerity at a national level.
Local Labour councillors, who had previously been given a platform by the campaign, then banned its march.
Unbelievably Stella Creasy was allowed to speak from the stage despite her attempts to prevent an anti-racist event taking place. Steve Hedley, RMT union assistant general secretary, made a powerful speech explaining the link between austerity and the rise of the far right. Steve appealed for support for the Trade Unionist and Socialist Coalition (TUSC) to build a voice for working class people. Nancy Taaffe, a local library worker sacked through the cuts and TUSC candidate for Walthamstow in the 2010 general election, added to these points.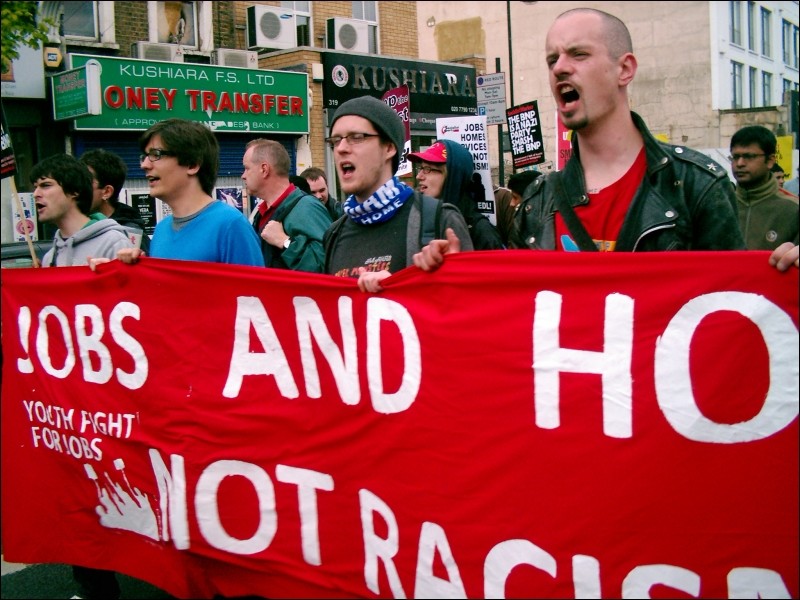 She also made it clear that "we must have a political challenge to the lies of austerity and of cuts where the three main political parties have betrayed the working class". Nancy explained TUSC's plans to put up candidates against the council that had carried through Tory cuts and privatisation, calling on parents fighting academies, workers and trade unionists fighting cuts, to build a "working class alternative to the politics of sell-outs". Oktay from the Day-Mer Kurdish and Turkish youth organisation made a strong speech calling for workers and young people to unite and build the resistance to racism and fascism, and to austerity.
In the end, less than 50 EDLers, outnumbered by police, held a static protest near Parliament, where they were given permission to do so at one day's notice. Nonetheless this pathetic show earned the hooligans a video on the websites of the Telegraph and the Evening Standard. The Socialist Party leaflet distributed on the day called for "a massive, united campaign of working class people that has the power not only to marginalise and smash groupings like the EDL, but to hold out hope in a real future to those small layers of people who might be attracted by them". It also noted that: "The impressive TUC demo last Saturday 20 October, following the big events of last year (the 26 March TUC demo and 30 November public sector strike), all show that the organised working class in the trade unions has the power to mobilise masses of people in decisive action. This version of this article was first posted on the Socialist Party website on 28 October 2012 and may vary slightly from the version subsequently printed in The Socialist.
A large number of young people in particular came out, despite the EDL announcing a week before that they weren't coming after all. It had a big effect in counteracting the fear that the EDL's original threat to march in the borough had caused and it also gave confidence to people that the EDL can be stopped. Unfortunately, most of the platform speakers didn't adopt this class approach and therefore missed an excellent opportunity to rally thousands of young and overwhelmingly working class people against cuts as well as the EDL. HNH's reporter also spotted another notorious Nazi, Kevin Watmough of Redwatch, on the demonstration. Spence, you may remember, is a former BNP parliamentary candidate who received a seven months' sentence for his part in a 2010 attack by the EDL on the Tyneside Irish Centre, where the Socialist Workers Party was due to hold a meeting.
His real name is Mark Turnbull, and he is a former BNP member from Gateshead who was in court back in 2010 following violence at an EDL demonstration in Leicester. Let er wel op dat dit subforum enkel over dergelijk algemene zaken gaat die niet thuishoren in de themafora. Nu zal ze moeten uitkijken naar een andere locatie en van de dop moeten leven (juli is forfaitaire dop, augustus is meer berekend, maar het is loonverlies tenzij de situatie veranderd is ondertussen).
Als het gaat over de rechten van de Vlamingen ten opzichte van de Franstaligen (een arme minderheid, dus zeer dapper!), dan kan het nooit op en is het om 't er radicaalst. Ja, islam is verantwoordelijk voor die rellen en belachelijke beschuldigingen, islam is verantwoordelijk voor het vernietigen van het leven van die juf en andere leraars in dat schooltje.
Ze hebben schrik dat Vlaanderen meer autonomie gaat krijgen en de sociale zekerheid zal worden herzien. Weinig mensen weten dat leerkrachten soms 15 a 20 jaar als tijdelijke lesgeven en dus elke keer in september een grote werkonzekerheid hebben.
Maar als het gaat over de verdediging van de rechten van de Vlaamse werknemer ten opzichte van (buitenlands en binnenlands) kapitaal, dan is een mes in de rug het enigste wat ze die werknemers te bieden hebben.