MRE's that you can buy are only superficially different from those sold to the military, mainly in the packaging and the spoon. If the storage temperature is closer to 60, then the survival food storage time can be lengthened, even up to as much as 10 years, if the temperature is truly low. One man said that you can stand the mre's flavor, only if you heat them up, and add your own seasoning or sauce to them.
Thought 1 -- Some needed vitamins and other nutrients are destroyed by cooking, or leached by food processing ways. Thought 2 -- Military folks, such as yourself, have til now shown a tendency to be clueless about nutrition.
With Patriot Pantry Cheesy Broccoli and Rice Soup in your pantry, you will always have the makings of a hot lunch or dinner that your whole family will love. White rice (long grain rice, ferric orthophosphate [iron], niacin, thiamin mononitrate [thiamin], and folic acid [folate]), cheese powder (whey, buttermilk solids, granular and cheddar cheeses [pasteurized milk,cheese culture,salt, enzymes], whey protein concentrate, salt, sodium phosphate, citric acid, yellow 5, yellow 6, lactic acid, enzyme), creamer (maltodextrin, palm oil, contains 2% or less of the following: sodium caseinate [a milk dervative], dipotassium phosphate, mono-and diglycerides, sodium aluminosilicate, natural flavor, annatto extract [for color], sodium hexmetaphosphate), corn starch, chicken stock (corn syrup solids, salt, corn starch, hydrolyzed corn and soy protein, rendered chicken fat, sugar, onion powder, disodium inosinate and disodium guanylate, spices, turmeric, dehydrated parsley, and silicon dioxide added to prevent caking), dehydrated broccoli (broccoli, sucrose), dehydrated chopped onions, onion powder, parsley flakes. Thanks to Augason Farms for providing samples to review as well as sponsoring this prize pack for one of you!  Ready to get started? Remember, these 12 days of giveaways are sponsored by some really great companies and individuals, so to share the love, most of the entry methods will be ways of keeping in touch with them or this site.
Please be sure to follow Food Storage and Survival on Facebook which is updated every time there is a new article. Shop the Thrive Monthly Specials or my favorites, the freeze dried vegetables and yogurt bites! In conclusion, if you're looking for long term success at food storage of rice and beans, they should be stored in oxygen-free environments. Sorry, off topic: when storing spaghetti pasta, leave in the boxes because when removing for use, they will fall down and create a problem. We would normally buy bulk purchases of rice and dump the rice into food grade buckets with no special preparation , then store the bucket in the basement . I have more than 16 (5) gallon buckets of rice stored since 2008 when I started stocking food. I have checked often and without any special treatment-no mylar, no absorbers– the rice is fine. I have stored beans and rice for long term in Food Grade buckets for over 10 years with no problems in the past. I am actually now finishing a batch of Anasazi Beans I have stored in a bucket (2009) with only a stick of Juicy Fruit Gum, it keeps the bugs out. I should clarify, the Juicy Fruit we both use is the Wintergreen flavor, I guess it's the Wintergreen that does it. I have always heard that O2-sorbs alone will not pull enough O2 to kill bugs like wheat weevils or those little nasty suckers they have in rice. Exactly the way I do them, although I don't put them in 5 gallon buckets, I just seal them flat and stack them in a rodent free area on shelving.
Costco sells an organic short-cook brown rice (12 lb bag) that we've been buying for our dog food.
I learned this by losing about 10 bags of egg noodles–the little suckers chewed right through the plastic and made holes to get to other bags. Those egg noodles are now in ziplok bags in cardboard until I get a 5 gallon bucket to store them in.
Watch the Dollar Store for spaghetti and macaroni, I've gotten 24 ounce bags there and how can you beat that for a dollar?
Has anyone else ever experienced rancidity (or not) with brown rice over a period of time beyond one year?
I'm not saying that dessicants and oxygen absorbers will eliminate fats from going rancid, but will certainly reduce it. Also note that rancidity will change taste and appearance, as well as reduce nutritional value, but eating rancid foods will probably not cause any immediate ill health effects.
I have packed and sealed over a 1,000 5 gallon buckets for members and non members in the last 20 years.
I recently opened a bucket of malted barley (for brewing) that had been packed over ten years prior and it had no bugs, and was in fine shape.
I like CO2 because unlike nitrogen, it's heavier than the atmosphere, so it will displace the air in the bucket. I lay a (regulated) gas supply tube in the bucket, add beans, grains, whatever, and flow some gas until an open flame place just below the rim inside the mouth of the bucket is extinguished from the presence of CO2. Like the rest of ya'll, we freeze ours for a day, let it come back to room temp, them vacuum seal the rice in Qt. I stopped going to my local Panda Express because they use brown rice for their fried rice. We store beans and rice in their original bags, inside sealed buckets, and have no issues at all. We used to repack and store our white rice into 2 liter bottles, that works very well… in 1998 we packed 50 lbs of white rice in plastic bottles. You must have JavaScript enabled in your browser to utilize the functionality of this website. By entering my email address, I certify that the information I am providing is accurate and that I am at least 18 years of age. Emergency food storage lasts longer with freeze dry food, but mre's are made to be more nutritious, and, in some cases, better tasting, than freeze dry.
If you keep them in your survival kits, it is advisable for you to consume them and replace them every 3-4 years.
Remember, we are talkin about the risk of serious diseases, such as dysintery, so you might want to be careful here.
Much easier and more affordable than going out for pizza or burgers, our Cheesy Broccoli and Rice Soup speaks to that natural urge for nutritious, delicious sustenance.
I'll mix up the entry methods as we go through the twelve days, so those of you who don't do one particular type of social media can still get entries. The four things that affect long term food storage are temperature, moisture content, atmosphere, and the container. Food buckets will help keep rodents and bugs out, and the buckets (with lids) will enable a sealed environment. With that said, you will still get years of usability from having simply placed individual store-bought bags inside food buckets (especially if using the freezer method first – to kill off any bugs). Lately I'm looking longer term so I stick the entire bag in a 5 gallon Mylar with a 2000cc O2-sorb, vacuum out as much air as I can than seal it. I usually just lay a few bundles of spaghetti pasta (in original bags) inside, toss in the O2-thing, suck out as much air as I can and seal it. When we first started out, we canned pasta (no liner) IN the can, 8 months later, ICKY taste of the can infused into the pasta, and NOTHING could get it out.
I'm wondering if the air circulation in the Brown and Balsamic rice is what's keeping it from turning rancid??? Both had been stored in their original store bought bags in a temperature controlled pantry. They both seemed no different than if I had just gone to the store and bought them the day of cooking. If the food's storage temperature is above 75 degrees fahrenheit, then take your mre ration out, eat it and replace it more often, say 2-3 years. However, with a lack of variety, and a lack of raw vegetables and fruits, organs can be degenerating, corroding, as it were, and you might not know it until it has reached the emergency stage. Keep it on hand for quick meals when time is tight, and stash a can in your survival food supply too. There will also be one FREE entry every day just for answering a random question about the Christmas season, so those of you who don't do social media at all can even enter! Winner will be notified by email and have 24 hours to respond before a new winner is chosen.
Let rest at room temperature for several days after removing from the freezer in order for the resulting condensation (upon removal) to evaporate before sealing into any container.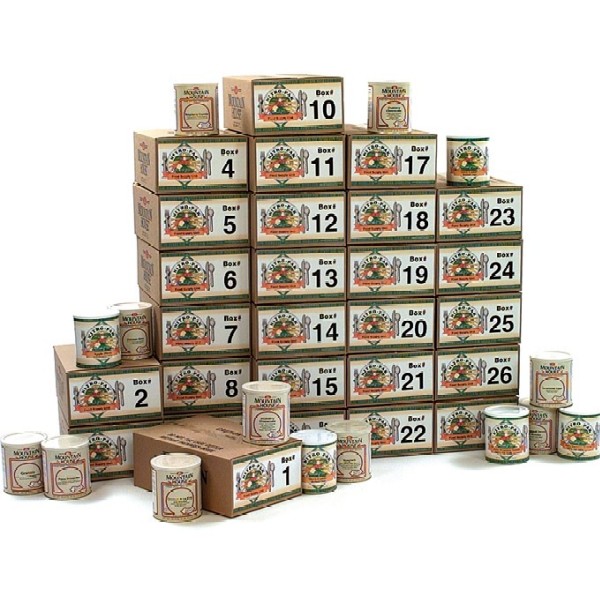 The method (vacuum sealed bags) allows me to store a large variety of beans and legumes without having to buy large bulk quantities of each variety (which would then be stored in 5-gallon pails with Mylar bags and oxygen absorbers). Currently I am using Mylar bags with 5# beans each and a 300CC Oxysorb or I use a 5 gallon Mylar with 25# and a 2000cc.
I do not store brown, wild, red, black, so-on rice, It will turn after a year, and you will toss it out. Have a friend that successfully stores wheat long term, and I mean like 30 years is his oldest bucket, and has never had a single bug problem, according to him.
Also I suck out 90+% of the air out of Mylar with a Vac Pump before I seal them, and add an O2-sorb. I doubt this is accurate, since the bags are neither bucket sized nor shaped, and are often ironed closed and the top folded or wadded up as the bucket is sealed. If we buy store pasta, it's always dumped out of the boxes and put into the large plastic containers.
We always use mylar bags to store our dry pack products, (rice ALWAYS after freezing first-no issues ever)and then place the sealed bags(in sizes we use readily) into our food grade buckets with the gamma lids.
Just be certain that the lids are in warm water for 15+ minutes to soften and wiped dry before using.
Our special recipe will revive your tired, hungry crew in a crisis, giving them the strength and determination to make it through.
And you also get bonus points for sharing this giveaway with your friends (and this is the season of sharing), so share it!
Fortunately our sense of smell and taste will alert us to rancidity – and therefore we will be cued not to eat it.
It would probably furnish all the caloric intake needed, but I would shoot myself after about ten days if that was all I had to eat.
I'm expecting to have no degradation in these at all, also expecting a 20 year life from them. When I first got into long-term storage that's all I used, I also never had a single problem. We don't store much pasta, though, because we have seen that a few bugs that have gone straight from a recent purchase into the stored pasta.
I err on the side of more oxygen absorbers rather than less…in a bucket of pasta, I always add minimum of five. My wife would probably shoot me first though, to stop the methane gas I would be producing. On the other hand, If you could figure out how to do the plumbing, you could probably run your generator until the beans ran out.
The trick is to use a Seal-A-Meal or vacuum pump and suck out as much air as you can when you seal the bags. Have opened pasta sealed for five years with no issue, and self rising flour 4+ years old, packed tight…had to add baking powder, but taste was good. Rice, have not opened any that was bad, but had a problem a few years back with some that was not sealed in buckets in a timely manner, after freezing and thawing…bugs went for the fresh food. A good friend has nitrogen gas and the wand to get down to the bottom of the 5 gallon containers.
Once you push the lid on you need to set the lid with a rubber mallet on the edge to make sure it is sealed.
A length of wood to bridge the lid works best to seal it.Just go around the edge tapping on the wood. I buy new lids from a paint store.They are a better thicker lid with a good seal meant to have other buckets stacked on them. In the old days Hawaiians used leaves from a plant called moc orange to get bugs to vacate their rice.