The Teacher Education Office hosts the Education Career Fair for teacher candidates in January each year. Teacher candidates: Login to UBC CareersOnline to learn more about the employers who will be exhibiting this year.
Thank you to all of the vendors and students who participated in the New Teacher Career Fair.
For career opportunities in education, please visit Make a Future and UBC New Teacher Career Info. The morning portion of the fair is reserved for attendees to browse and meet recruiting entities.
The fair is an excellent opportunity for College of Education students to familiarize themselves with the job market and get acquainted with offerings from the various school districts and other recruiting entities.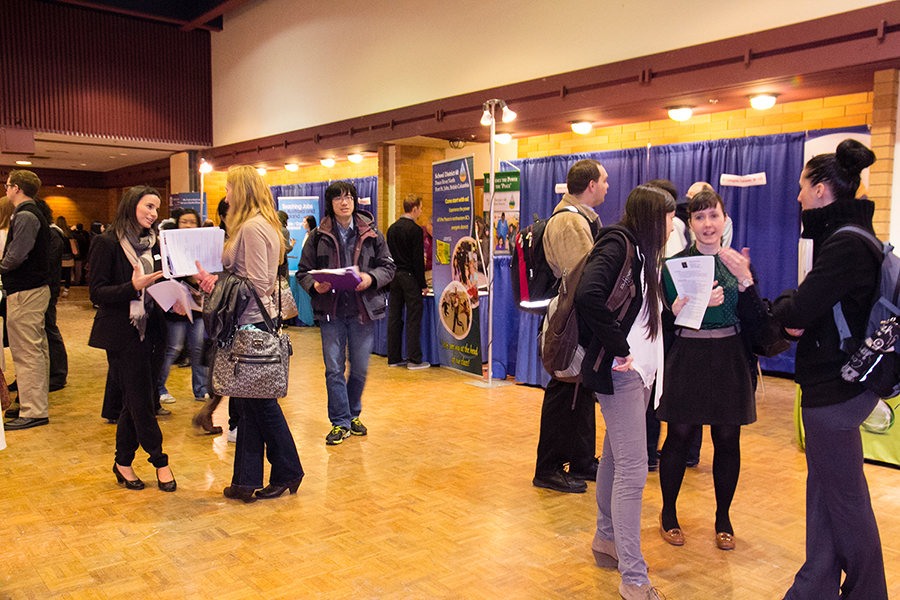 NOTE: During the fair, Texas school districts and organizations are arranged according to geographic location based on Educational Service Center (ESC) Regions.
At the fair, teacher candidates have the opportunity to meet and present themselves to recruiting officers from BC school districts, officials from school districts in other provinces and territories, and international recruiters seeking teachers for a variety of countries. During this time, you will have the opportunity to meet with school district officials and set up interview times. Over 100 recruiting entities from Texas, across the country, and abroad attend these fairs seeking to hire UT graduates and job seekers from the public. Undergraduate candidates in Teacher Certification and graduate students from Curriculum & Instruction, School of Information, Educational Administration, Educational Psychology and Special Education are encouraged to take advantage of this opportunity to talk to recruiters and make contacts with the recruiting entities. Visit Preparing for Career Fairs and Tips to Dress for Success in order to make the most of this event.
This color coded map will help you identify the location of the districts and organizations that interest you. The Career Services office provide the space and time for these interviews but otherwise is not involved in this portion of the fair day. Our experience has been that most of the on-site interviews tend to be in certification-specific shortage areas; for example, some areas of special education, bilingual education, secondary math, and secondary science. Otherwise districts either invite our students to their career fairs or to their central office for interviews.