The management of patients with brain metastases from breast cancer continues to be a major clinical challenge. Brain metastases are diagnosed in approximately 15% of unselected patients with advanced breast cancer [2]. In historical series, the median survival of unselected patients with breast cancer brain metastases treated with whole-brain radiotherapy (WBRT) has been reported at approximately five to six months [11]. A full discussion of the current standard of care approaches is outside the scope of this review. At present, there are no FDA-approved systemic therapies for the treatment of breast cancer brain metastases.
Temozolomide has been examined in a phase II trial of the National Cancer Institute of Canada Clinical Trials Group (NCI-CTG) [22]. Platinum agents have also been prospectively evaluated, although in combination with other cytotoxic agents rather than as monotherapy. Finally, some regimens, while not evaluated in prospective clinical trials, have reported efficacy in case series and include CMF (cyclophosphamide, methotrexate and 5-fluorouracil), anthracycline-based regimens and high-dose intravenous methotrexate [33, 34].
Endocrine therapies remain the oldest and most established targeted treatments for the management of patients with breast cancer. Lapatinib plus capecitabine has also been compared with trastuzumab plus capecitabine in the CEREBEL trial, with a primary endpoint of the development of CNS metastases [46].
The ideal agent would reach therapeutic concentrations in the brain, be active against breast cancer in both intracranial and extracranial sites (including in patients who have received multiple prior lines of systemic therapy), have a favourable toxicity profile, and demonstrably benefit patients.
In light of the activity observed with lapatinib, other HER2-directed tyrosine kinase inhibitors are also being evaluated for CNS activity. In tandem with ongoing studies evaluating mTOR inhibitors in breast cancer, there is a tremendous amount of effort being placed in evaluating pan- and alpha-specific PI3 kinase inhibitors.
Finally, although the enthusiasm for PARP inhibitors waned somewhat with the presentation of the negative phase III iniparib trial, it now appears that iniparib is not a true PARP inhibitor [69]. Among patients with leptomeningeal metastases, breast cancer is the most commonly represented solid tumour [73]. Patients with brain metastases have historically been excluded from the vast majority of clinical trials in cancer. Breast cancer brain metastases continue to pose a difficult challenge for patients and clinicians.
The laboratory of James Driscoll, MD, PhD, at the UC Brain Tumor Center is performing novel research in the areas of primary and metastatic brain tumors.
Semiretired and working part-time at a restaurant, Lynne knew something was amiss when she looked at the cash register and then struggled to make her hands produce the correct amount of change. Sandra (Sandy) is a smiling, breathing reminder that hope exists for patients with even the most challenging type of brain tumors.
One turn of events led to another, and so it was that Jim, and not his wife, took Jim's 87-year-old father to his appointment with the dermatologist for the first time. Dick was enjoying his retirement as a full-time volunteer at Crayons to Computers when his memory began to go awry.
The transformation of biology from a descriptive, phenomenological discipline to one in which the regulatory principles are understood and predictably manipulated brings new opportunities to the study of cancer and the search for effective therapeutic modalities. JavaScript is currently disabled, this site works much better if you enable JavaScript in your browser. From April 22-25, 2014 I had the opportunity to participate in the 5th International Symposium on Hereditary Breast and Ovarian Cancer (HBOC), which took place in Montreal, Quebec. This year, researchers, clinicians, counsellors and industry leaders from countries around the world (including Australia, Israel, the United Kingdom and the Netherlands) came together to share their discoveries and address specific challenges that we all share within the field. This conference was particularly interesting for me because I had previously never attended such a specialized meeting.
In the case of the HBOC Symposium, with over 100 posters and 43 presentations, I was surrounded by individuals investigating the same breast cancer genes as we are, using the same techniques as us, and facing some of the same challenges that we are attempting to overcome. Because there were so many specialists of varied expertise in attendance, the conference was divided into sessions which each addressed a particular subject of importance to HBOC. Right now, a huge obstacle that researchers are facing is the number of mutations that are being detected thanks to the rapidly advancing machines that are being invented. Some of the highlights from the other sessions included the new types of drugs available for breast cancer treatment (such as PARP inhibitors and specific chemotherapy), as well as resources available for patients and families with BRCA mutations.
For example, Kintalk.org is an online forum developed by the University of California, San Francisco which is available to individuals seeking to communicate with other affected families, access information, and communicate with experts in the field.
There was great emphasis put on the advantages and disadvantages of removing the fallopian tubes in patients with BRCA mutations. Finally, another session focused on the discovery of additional cancer genes, aside from the well-known BRCA1 and BRCA2 genes that are currently used for genetic testing for HBOC.
In addition to the presentations, we also had the opportunity to take part in one of four workshops, each of which addressed key issues faced by doctors and researchers. I hope to go back for the next meeting in two years and am excited to see what answers we will have found to the questions that we have today. TAGS: BRCA1, BRCA2, breast cancer, breast cancer canada, breast cancer research, breast cancer society of canada, Dr. The San Diego Convention Center, where the meeting was held, is pictured in the top left panel. From April 4-9, I had the opportunity to attend and present my research at the American Association for Cancer Research Annual Meeting 2014 held in San Diego.
My work involves the analysis of breast cancer tumour genomes and mutations that may be relevant to chemotherapy response. One study, from a group in North Carolina, outlines mouse models they have characterized that mirror the different subtypes of breast cancer. This meeting was large, with over 6,000 oral and poster presentations, so there was also the opportunity to learn about cancer research in many other different and interesting areas. During the meeting, I ran into many familiar faces from Western University, including a number of graduate students and researchers presenting their work.
Matt Rytelewski and Saman Maleki Vareki (bottom left), LRCP PhD students, presented their research on a molecule called indoleamine 2,3-dioxygenase-1 (IDO), which suggests it may be a potentially valuable therapeutic target in cancer treatment in combination with other therapies. Overall, conferences such as the American Association for Cancer Research Annual Meeting are a valuable experience for any research trainee, allowing us to form new ideas and collaborations, and to learn from some of the leaders in our field.
TAGS: American Association for Cancer Research, breast cancer, breast cancer society of canada, cancer prevention, Dr. The Third Annual London Translational Breast Cancer Research Retreat was held on January 10, 2014. All in all, the retreat was a resounding success, with positive feedback from attendees including thanks for a "thought-provoking" meeting.
TAGS: BRCA1, breast cancer, breast cancer research, breast cancer society of canada, Camilla Urbaniak, Dr. The standard initial therapeutic approach depends upon the size, location, and number of metastatic lesions and includes consideration of surgical resection, whole-brain radiotherapy, and stereotactic radiosurgery. While brain metastases remain incurable, there is increasing optimism that advances in local and systemic therapies may provide clinical benefit in some subsets of patients, and there is increasing interest in exploring novel approaches to the prevention and management of this challenging clinical problem. Over time, it has become increasingly clear that the biology of the primary tumour influences the pattern of metastatic spread, including the likelihood of relapse in the central nervous system (CNS) [3–5]. More recent analyses have identified performance status and biologic subtype as major drivers of prognosis. Treatment guidelines for patients with brain metastases from solid tumours are available through the National Comprehensive Cancer Network (NCCN) and professional societies [20, 21]. A number of small, prospective trials of cytotoxic chemotherapy have been completed and are summarised in Table 1. This trial included 19 women with heavily pretreated metastatic breast cancer (MBC) and allowed patients with brain metastases (n=5) to participate. With respect to breast cancer brain metastases, capecitabine has been evaluated in a phase I study in combination with temozolomide, with a reported response rate of 18% [24].
In a phase II study evaluating the combination of cisplatin and temozolomide, six out of 15 (40%) of breast cancer patients achieved a partial CNS response [26]. At present, only ixabepilone is commercially available and is approved for the treatment of refractory MBC. In the setting of CNS disease, there have been multiple case reports describing responses to tamoxifen, aromatase inhibitors and megestrol acetate, although no prospective trials have been conducted [35–37]. Although it should be acknowledged that trastuzumab levels have not been directly measured in human brain metastasis samples, nevertheless, clinically, it has been repeatedly observed that a substantial proportion of patients with HER2-positive MBC develop isolated CNS progression in the setting of continued systemic disease control on trastuzumab [6]. Of note, patients were required to have CNS screening at baseline, and this led to 20% of the study patients having asymptomatic brain metastases detected, leading to study exclusion.
Commercially available treatment options for patients with progressive brain metastases after surgical or radiotherapy approaches remain limited, and there are still no systemic regimens that have gained a formal indication in this setting. Two examples are the third-generation taxane TPI-287 and the peptide-taxane conjugate GRN1005. For example, neratinib has been evaluated in phase II trials in HER2-positive MBC patients for the treatment of extracranial disease. With respect to angiogenesis, it is well documented that breast cancer brain metastases are highly angiogenic and associated with abnormal tumour-associated vasculature [53]. Earlier this year, everolimus, a rapamycin analogue that inhibits mTOR signalling, was approved in combination with exemestane for patients with ER-positive MBC, on the basis of a randomised trial demonstrating a substantial improvement in PFS [60].
Approximately one-third of HER2-positive breast cancers contain a PIK3CA somatic mutation, and PTEN loss is present in up to half of triple-negative breast cancers [65].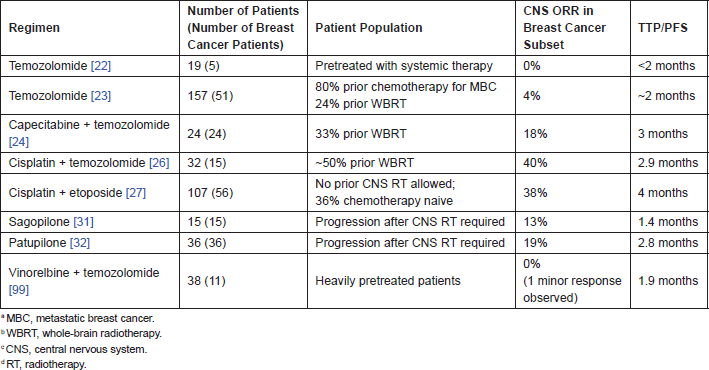 Other PARP inhibitors have shown clear single-agent activity in BRCA mutation carriers, which is notable given reports of a high incidence of brain metastases in BRCA carriers with breast cancer [70–72]. Still, leptomeningeal metastases are a fairly infrequent occurrence in most breast cancer patients.
A number of case reports have been published in the medical literature, although on close review, in many cases, patients received multiple concurrent therapies, making isolation of the true effect of intrathecal trastuzumab a challenge [87–89]. As patients with brain metastases are included in trials and as more trials are opened that specifically assess the CNS efficacy of novel treatments, there is an increasing need to standardise response criteria for assessment of brain metastases. Provocative data in a small study of patients treated with lapatinib and capecitabine as upfront therapy for HER2-positive brain metastases raise the question of whether systemic therapy might someday take the place of radiotherapy-based approaches and raise difficult questions as to what type of data would be required to comfortably make that shift [45]. To date, there have not been any clinical breast cancer studies utilising this model, although there is significant interest in launching such a study.
For the majority of patients, the most appropriate initial therapy remains a radiotherapy-based approach, although select patients may benefit from surgery, and systemic therapy could be considered in some circumstances. Trudeau ME, Crump M, Charpentier D, et al (2006) Temozolomide in metastatic breast cancer (MBC): a phase II trial of the National Cancer Institute of Canada - Clinical Trials Group (NCIC-CTG). Gradishar WJ, Stephenson P, Glover DJ, et al (2001) A Phase II trial of cisplatin plus WR-2721 (amifostine) for metastatic breast carcinoma: an Eastern Cooperative Oncology Group Study (E8188). Murphy C, Nulsen B, Rump M (2009) Phase II trial of patupilone in patients (pts) with breast cancer brain metastases (BCBM) progressing or recurring after whole brain radiotherapy (WBXRT). Boccardo F, Kaufman B, Baselga J, et al (2008) Evaluation of lapatinib (Lap) plus capecitabine (Cap) in patients with brain metastses (BM) from HER2 breast cancer (BC) enrolled in the Lapatinib Expanded Access Program (LEAP) and French Authorisation Temporaire d'Utilisation (ATU).
Bachelot T, Romieu CG, Campone M, et al (2011) LANDSCAPE: An FNCLCC phase II study with lapatinib (L) and capecitabine (C) in patients with brain metastases (BM) from HER2-positive( ) metastatic breast cancer (MBC) before whole-brain radiotherapy (WBR).
Regina A, Demeule M, Che C, et al (2008) Antitumour activity of ANG1005, a conjugate between paclitaxel and the new brain delivery vector Angiopep-2. The investigator-initiated research seeks discoveries that can lead to promising new treatments and Phase I clinical trials.
Driscoll's next step is to introduce a suppressor that blocks that microRNA signal, thereby preventing the cancer cell from receiving nutrients from healthy brain cells. Cancer and Metastasis Reviews offers a forum for critical review and discussion of these challenges.Each issue presents five to seven different contributions on a single theme or topic, with an introductory essay from a distinguished individual in the field. My name is Natasha Caminsky and I am a first year MSc student in the Biochemistry Department at Western University, working in the laboratory of Pamela Greenaway-Kohlmeier Translational Breast Cancer Research Unit Mentor Dr.
The HBOC Foundation is the primary organizing body of this meeting and hosts it once every two years. The theme of the meeting was BRCA – Twenty years of advances, in order to mark the 20th anniversary since the discovery of the BRCA1 gene (one of the main genes responsible for hereditary breast cancer). In the past, I have presented my work at conferences which focus either on health or cancer research, such that the breadth of subjects is very broad and it is rare that I would find many, if any, other individuals performing research on the same topic as myself. What I found most exciting was that the majority of authors that I have cited in my work were standing before me, presenting their most recent findings.
The first that was of particular interest to me covered cancer mutations, cancer gene variants and genetic databases. This session was meant to present efficient ways of cataloguing all this information online in a database so that it's accessible to everyone and people can contribute to it when then make new discoveries.
This could be a potential alternative to an oophorectomy (removal of the ovaries) in patients of reproductive age who don't have breast cancer and have already had a mastectomy.
Douglas Easton (University of Cambridge, Cambridge, UK), who elegantly summarized the history of HBOC research and the discovery of genes associated with the disease. It was great to see the work that others are doing on the same subject as my research because it shows how important and relevant it is to treating breast cancer patients and allowing for prevention within families. Western University's Chantalle Willie (top right) and Matt Rytelewski and Saman Maleki Vareki (bottom left) presented their work during poster sessions. My name is Stephanie Dorman and I am a Pamela Greenaway-Kohlmeier Translational Breast Cancer Research Unit trainee and a PhD candidate in Dr. This conference is one of the largest cancer research focused meetings in the world, with over 18,000 international participants attending this year. At the meeting, there was a breast cancer-specific session that had presentations relevant to my area of research. These mouse models have the potential to be an effective tool for researchers studying the differences and similarities between the different breast cancer subtypes, as well as the effectiveness of certain therapies for each. Willett stressed the importance of a healthy diet in cancer prevention, noting that obesity is contributing to the total number of cancer cases in the United States as much as smoking (although there are more people who are overweight and fewer people who smoke).
Chantalle Willie (top right), a research technician at London Regional Cancer Program (LRCP), presented a study on personalizing renal cell carcinoma treatment using a method that helps predict the tumour sensitivity to various therapies before the start of systemic treatment.
Stewart Gaede, spoke about his research to improve radiation treatment planning for patients with left-sided breast cancer, in order to minimize radiation damage to the heart. We look forward to capitalizing on the new ideas and relationships generated in order to move patient-centred breast cancer research forward in exciting new directions in 2014!
As systemic therapies for control of extracranial disease improve, patients are surviving long enough to experience subsequent progression events in the brain.
This review summarises the clinical experience to date with respect to cytotoxic and targeted systemic therapies, highlights ongoing and planned trials and discusses potential targets and novel trial designs for future investigation.
As many as half of patients with HER2-positive advanced breast cancer will develop brain metastases at some point in the course of their disease [6–8].
For example, in a multi-institutional retrospective database of over 400 patients with breast cancer brain metastases, a prognostic model (the Diagnosis-Specific Graded Prognostic Assessment, DSGPA) using these factors (plus age) was able to distinguish between patients experiencing a two year median survival versus those with 3.4 months median survival [12, 13].
Because of the relative paucity of breast cancer-specific prospective trials in this patient population, the recommendations are largely based upon data generated from trials of patients with solid tumours (of which lung cancer is most highly represented). Systemic therapy could be a consideration either on a clinical trial, in the context of minimal CNS disease burden with rapidly progressive extracranial disease, or in select, well-informed patients as an alternative to localised therapies with close follow-up (i.e.
No objective responses were observed and the study was closed to further accrual due to lack of sufficient activity. CNS activity has also been reported in a case series from Memorial Sloan-Kettering Cancer Center, with capecitabine given as a single agent [25]. For the 32 total patients enrolled in the study, median time to progression (TTP) was 2.9 months. Negative results of a trial in patients with primary brain tumours and the existence of investigation alepothilones with excellent blood–brain barrier (BBB) permeability have limited efforts to formally test the effects of ixabepilone in patients with breast cancer brain metastases [29].
Unfortunately, the reality is that most patients with ER-positive breast cancers have developed endocrine-refractory disease by the time brain metastases are detected.
A number of studies have evaluated the efficacy of lapatinib, a small molecule tyrosine kinase inhibitor that targets both EGFR and HER2, in the setting of HER2-positive breast cancer brain metastases (Table 2).
The study did not meet its primary endpoint because of a paucity of CNS events in both arms. TPI-287 is a microtubule-stabilising agent designed to circumvent the MDR-1 drug efflux resistance mechanism and is also highly permeable across the intact BBB.
Approximately half of patients treated in the first-line setting achieved an objective response; in the refractory setting, the response rate was 24%, with a median PFS of 22 weeks [51].
In preclinical models, VEGF promotes the growth of breast cancer brain metastases, and this growth is inhibited by anti-angiogenic agents [54]. In a randomised phase II trial, everolimus also demonstrated additive benefit when given in conjunction with tamoxifen [61]. Their role in non-BRCA-associated breast cancer is still uncertain, but it is an area of continued active investigation. In series from Korea and the United States, only 3–5% of patients with HER2-positive MBC were reported to have developed leptomeningeal metastases [6, 7, 74].
Intrathecal chemotherapy can be effective, but even with good patient selection, long-term responses are uncommon [79, 80].
At present, off-label use of intrathecal trastuzumab is not recommended, given that the commercial drug supply is not formulated for intrathecal use [90]. Because neither the RECIST nor Macdonald criteria were developed for the specific purpose of evaluating patients with CNS metastases, there are some gaps and inconsistencies in how they are applied in brain metastasis studies, and many groups have either modified the criteria or developed new criteria.
In particular, in a hypothetical phase III study directly comparing WBRT with systemic therapy, CNS response, or CNS progression-free survival may not be the most appropriate primary endpoint(s). Ultimately, it would be ideal to develop therapies that could prevent the occurrence of brain metastases altogether. Although there are still no systemic therapies with an FDA indication for the treatment of breast cancer brain metastases, there is emerging evidence of activity of a number of regimens, and there are an increasing number of clinical trials targeting this patient population. Just as a dandelion's seeds break away, blow in the wind and land in the soil, a lung or breast cancer's cells break off and spread through the bloodstream and settle in another part of the body.
He and his research team have looked at how normal brain cells provide nutrients to invading cancer cells and cause uncontrolled growth.
This, in turn, causes the cancer cells to wither and die, like dandelion seeds that land on dry, barren soil.
Special emphasis is placed on subjects of relevance to the molecular and cellular biology of cancer metastasis and tumor progression, as well as to the treatment of metastatic disease. Our project fit in very well with the topic of this session, as we are seeking to identify and prioritize mutations that, for now, we do not know how to interpret.
He also discussed the issue of variants of uncertain significance, and finished by giving his opinion of how to deal with all of these issues and where research should be focusing its efforts in the years to come. This session had five different presentations on topics including the genetic analyses of mouse and human breast cancer tumours, the use of mouse models to model therapy resistance, and a newly identified biological pathway that may be an effective therapeutic target.
Walter Willett from the Harvard School of Public Health (picture in the bottom right), discussed the relationship between diet and cancer.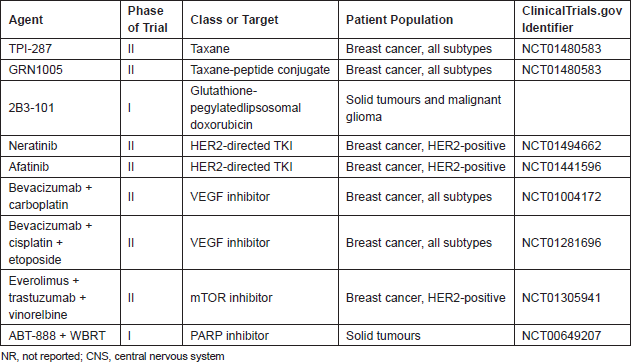 The presentation, among the many studies focused on the biology and treatment of cancer, highlights the importance of preventative measures as our first line of defence in reducing the overall burden of cancer in our society.
Ted Vandenberg presented an overview on emerging trends in the care of breast cancer patients for the future, based on research successes.
Therefore, there is an increasing need to identify both more effective initial treatments as well as to develop multiple lines of salvage treatments for patients with breast cancer brain metastases. Across multiple retrospective studies, the most striking differences have been consistently noted between patients with HER2-positive breast cancer (who carry the most favourable prognosis) and those patients with triple-negative breast cancer [14–19]. A dose-dense temozolomide regimen has also been evaluated in a phase II study of solid tumour patients (n=51 with breast cancer) [23].
In a separate study evaluating the combination of cisplatin and etoposide, the CNS response rate was 38% with a median TTP of four months [27]. Sagopilone is an epothilone B analogue that readily crosses the BBB and is not a P-glycoprotein substrate [30].
It is likely that the study was inconclusive as the highest-risk population for developing brain metastases was screened out due to the screening procedures. There are a number of novel agents of interest and an increasing number of trials designed to evaluate the efficacy of these compounds in the CNS (Table 3). In a preclinical model using intracardiac injection of 231-BR cells, treatment with TPI-287 inhibited outgrowth of brain metastases, an effect that was not seen with paclitaxel, ixabepilone, or nab-paclitaxel [47].
Based on these promising findings, neratinib is now being evaluated in a multicentre study for the treatment of patients with HER2-positive breast cancer and progressive CNS metastases. There are preliminary data supporting an effect of bevacizumab on brain metastases and reassuring safety data from the standpoint of CNS haemorrhage [55, 56]. Everolimus is also under active investigation [62, 63] in the setting of HER2-positive breast cancer. Of interest, anecdotal reports of CNS activity have been reported with BEZ235 and BKM120 in a patient with HER2-positive and triple-negative breast cancer, respectively [67, 68]. A phase I study of the PARP inhibitor ABT-888 in combination with WBRT is ongoing, and there is interest in evaluating the combination of PARP inhibitors plus chemotherapy or other targeted approaches for brain metastases in the future.
The incidence does appear higher than this in patients with ER-positive lobular breast cancers and in patients with triple-negative breast cancer, although the point estimates have varied [4, 75–77]. Case reports and case series have been published on the experience with endocrine therapy, high-dose intravenous methotrexate, capecitabine, and irinotecan, and off-label use could be considered in select circumstances [25, 81–83]. Newer anti-HER2 agents, such as pertuzumab or TDM1, which have demonstrated activity against extracranial metastases, could also be of interest in patients with leptomeningeal disease when given intrathecally. The Response Assessment in Neuro-Oncology (RANO) Metastatic Working Group is currently taking on the task of formulating new response guidelines in an effort to reduce this heterogeneity across studies. In a small, randomised study comparing SRS alone to SRS with WBRT, although intracranial control was superior in the SRS WBRT arm, neurocognitive outcomes were inferior, suggesting that intracranial control is not directly translatable to improved patient outcomes [94]. And just as dandelions sprout anew in fertile, nutrient-rich soil, cancer cells take root as new tumors when they settle in the brain. A signal called microRNA stimulates the tumor cells to grow uncontrollably, while activating a force field that protects the cancer cells from chemotherapy.
Tew, Blake's neurosurgeon, was wearing one of Lance Armstrong's yellow LiveStrong cancer bracelets. Occasional issues will be devoted to an in-depth clinical and biological analysis of a particular type of cancer.The journal also reviews important recent developments in the biology and treatment of malignant disease, and highlights promising new directions. Tools such as the ones presented in the earlier talks will be a great resource for us and we hope to be able to contribute our project's findings to this database. Walter Willett (bottom right) presented a status report on diet and cancer in a plenary session. This review summarises the clinical experience to date with respect to cytotoxic and targeted systemic therapies for the treatment of brain metastases, highlights ongoing and planned trials of novel approaches and identifies potential targets for future investigation.
Patients with metastatic, triple-negative (ER, PR and HER2 negative) breast cancer are also at high risk, with 25–46% of patients developing brain metastases at some point in the course of their disease [4, 8]. Based on several lines of evidence, it is likely that improved systemic tumour control is a major contributing factor to this difference. Among patients who have developed subsequent CNS progression after initial standard therapy, options include surgical resection, WBRT, stereotactic radiosurgery (SRS), off-label use of systemic therapy, consideration of a clinical trial, or best supportive care.
The objective response rate among breast cancer patients was 4%; however, the majority of the responses were transient, and median progression-free survival (PFS) was approximately two months. It should be noted that in the latter study, patients were not allowed to have received prior CNS radiotherapy, and about one-third were chemotherapy naive. Despite its preclinical promise, its single-agent activity in the phase II study breast cancer brain metastasis study was only modest, and there currently are no plans to further develop the drug in this setting [31]. More recently, lapatinib plus capecitabine has been studied in the upfront setting in the LANDSCAPE trial, prior to the use of WBRT or other local therapies for the treatment of brain metastases. GRN1005 (previously ANG1005) is a peptide (angiopep-2)-taxane conjugate that targets the lipoprotein receptor-related protein 1, which is upregulated on the surface of the BBB as well as in brain metastases, and reaches therapeutic concentrations in the brain in preclinical models [48, 49].
Similarly, afatinib is an irreversible inhibitor of EGFR and HER2, with preliminary evidence of activity in the phase II non-CNS metastatic setting, which is currently in clinical trials for the treatment of breast cancer brain metastases [52]. Moreover, bevacizumab has an established role in the treatment of primary brain tumours [57, 58]. Notably, everolimus has demonstrated efficacy against a rare type of brain tumour (subependymal giant cell astrocytoma, SEGA), suggesting it reaches therapeutic levels in the brain [64]. In particular, BKM120 is associated with mood alterations that are thought to be related its ability to cross the intact BBB (Zhao J, personal communication, September 2012), and there is interest in further evaluating this compound in the CNS.
Finally, in patients with elevated intracranial pressure, placement of a ventriculoperitoneal shunt can have clear palliative benefits and is a consideration within the context of multidisciplinary management [84, 85].
However, these would need to be studied carefully for both safety and efficacy and, as of now, would not be recommended for off-label use in this setting [91–93].
Yet, designating progression-free survival as the primary endpoint leaves open questions about the allowable systemic therapies in the WBRT arm and about the treatment of CNS and non-CNS progression in the statistical plan. The result is a brain metastasis that is growing rapidly and is resistant to our common therapies. Willett described some of the challenges in these types of studies, including the accuracy of the food surveys administered as well as restrictions in detecting the levels of various carcinogens in one's body. Ann Chambers and Alison Allan led an interactive and animated discussion with the entire group about improved methods for early detection of breast cancer metastases and clinical implications.
First, although one must interpret retrospective data cautiously because of issues with patient selection, it has been observed by multiple groups that patients with HER2-positive tumours who continue on anti-HER2 therapy following the diagnosis of brain metastases fare better than those who received either no therapy, or chemotherapy without HER2-directed therapy [18, 19]. Options will vary based on prior treatments received, response to prior treatments, location and number of the new or progressive CNS lesions, and the other patient and disease-related factors as listed above.
Additionally, although there has been increasing interest in the use of platinum agents in certain subsets of breast cancer, the systemic response rate in unselected, pretreated patients has been low [28]. Patupilone, another BBB-permeable epothilone, has also demonstrated CNS activity in breast cancer, and future trials are under consideration [32].
Approximately two-thirds of patients achieved a CNS objective response, and the median TTP was 5.5 months, with one-year survival exceeding 70% (Bachelot et al, Lancet Oncology, in press) [45].
In the phase I study in patients with brain metastases from solid tumours, CNS activity was observed across multiple tumour types, including breast cancer and patients with taxane-refractory disease [50]. Other HER2-targeting compounds of interest, including those with excellent BBB penetration, are in the early stages of clinical development.
A phase II study evaluating everolimus (in combination with trastuzumab and vinorelbine) among patients with HER2-positive breast cancer brain metastases is ongoing. If successful, it could lead to a phase I clinical trial for brain metastasis in early 2014.
Peter Rogan, outlined her work to discover new mutations in genes important to metastatic breast cancer, based on novel bioinformatics approaches.   Gabrielle Siegers, PhD, a Postdoctoral Scholar in the Department of Anatomy and Cell Biology, supervised by Dr.
Second, as many as half of patients with HER2-positive brain metastases suffer a death primarily related to CNS (as opposed to systemic) progression; this is distinctly different from patients with triple-negative brain metastases, where patients most commonly die of uncontrolled systemic disease [6, 17]. For both initial and subsequent management decisions, a multidisciplinary approach is essential in making recommendations based upon an assessment of the patient in the context of their local therapy options, extracranial disease status, planned or ongoing systemic therapy, and clinical trial options. Still, for patients who have seen relatively little prior systemic therapy and who have progressive brain metastases, off-label use of platinum agents could be a plausible treatment option. Results of this study have prompted ongoing European efforts to organise a potential phase III trial directly comparing lapatinib plus capecitabine with WBRT for initial treatment of patients with HER2-positive brain metastases, a study which will be needed before this regimen becomes part of routine upfront care. It should be noted that radiographic response to bevacizumab should be interpreted with some caution, given its anti-oedema effects, which may lead to decreases in gadolinium leakage and potential under-calling of tumour burden.
Lynne-Marie Postovit, presented her research on how Nodal, a breast tumor-associated protein, may change the anti-tumour properties of an immune cell type called Gamma Delta T cells. Based upon the data outlined above, phase II trials of both TPI-287 and GRN1005 are now ongoing. While in patients with primary brain tumours, specific modifications of response criteria have been added to account for some of these issues, there are as of yet no standard criteria for assessment of CNS response in the setting of solid tumour brain metastases [59].
All four trainee talks generated lively discussion, and new clinical links were formed or enhanced at the meeting to facilitate the translation of these research studies to benefit patients. However, interim analysis of the phase II trial of GRN 1005 in breast cancer brain metastases did not meet its efficacy endpoint. Follow up and analysis of the entire study population will be required before reaching conclusions about the future of the compound.