Licence fees: A licence fee will be charged for any media (low or high resolution) used in your project. ROTTERDAM - SEP 6, 2015: Crane operator picking up a sea container in the Port of Rotterdam. ROTTERDAM - MAR 16, 2016: Crane operator placing a container in a cargo ship the Port of Rotterdam. Terminal Pacifico Sur Valparaiso in Chile recently purchased three Ship-to-Shore container cranes (STS) from Irish based Liebherr Container Cranes. The cranes incorporate the latest security and control technologies, and feature comfortable and ergonomic operator cabins.
Recent changes in the shipping industry have seen large Post-Panamax vessels calling to South America's west coast, and central Chile has seen a 15 percent increase in container movement over the last three years. With this purchase, which is part of a comprehensive development plan in terms of capacity and technology, TPS is once again placed at the forefront of Valparaiso's port industry providing a complete and excellent service to its customers in every port operation.
These cranes have an outreach of 62m and a safe working load of 65t under twin lift spreader. An integrated remote monitoring system allows for efficient crane operation and for monitoring and management of the cranes from within the terminal..
The acquisition of the Liebherr cranes by TPS allows the port to play a central role in meeting this continued demand by offering greater operational efficiency.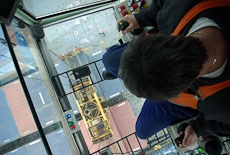 These are the largest container cranes that Liebherr has ever manufactured for the west coast of South America. The cranes allow the terminal to meet shipping companies' newest requirements, operating on large container vessels such as the CMA CGM Marco Polo container ships. These ships have a length of 396m, a breadth of 53.6m and a TEU capacity of over 16,020TEU.