The "mobile sleeping shelters" are 8-by-4-foot wooden structures complete with windows, a door and insulation. Fort does all of the work herself (aside from using the power saw), receiving only guidance from her contractor grandfather and mother Miranda.
But don't worry, Mom, Fort is planning instead to place the shelters in Bremerton's "Tent City," which will open later this year.
The grade-schooler has continued to tend to her charitable garden, Hailey's Harvest, in between construction projects. When Hailey Fort was just 5 years old, she spotted a homeless man in Kitsap County, Washington where she lives. Her mom said yes, and for the last four years, that's what Hailey's been doing: helping the homeless, with the help of her mom.
The recipient of the first shelter, Hailey's mom Miranda Fort told ABC News, is a man named Edward. Miranda said the family has already met with the city to make sure the shelter won't cause a problem though its exact location has not yet been determined. In addition to the 12 mobile shelters and 250 pounds of food: 1000 toiletries, 500 feminine hygiene products and 100 coats.
The city has already approved Haley's venture, allowing the shelters to be placed on church lots. In addition to her construction plans, she also hopes to grow 250 pounds of food for the homeless this year.
The cost to build a shelter is only about $300 because of the support of her community that has donated many of the items she needs. After brainstorming ways to reach even more people, she decided to plant a garden and harvest fruits and vegetables for the local food bank. Fort has almost finished her first one, which she plans to give to her homeless friend Edward, and has plans to build 11 more. Together Rising and Momastery awarded her with a $3,000 grant to help her construct the shelters, each of which costs about $300 to build, and the Lowe's hardware store in nearby Silverdale has given her a 50 percent discount on materials. Last year alone, she donated 128 pounds of fresh fruits and vegetables to the food bank and she regularly updates the garden's Facebook page with stories of her donations and the members of the homeless community with whom she interacts.
She's trying to raise $1,000 on her GoFundMe page and is about three-fourths of the way there. The cost to build one shelter, her mom said, is about $300, but the reason that price is so low is because she gets many items donated.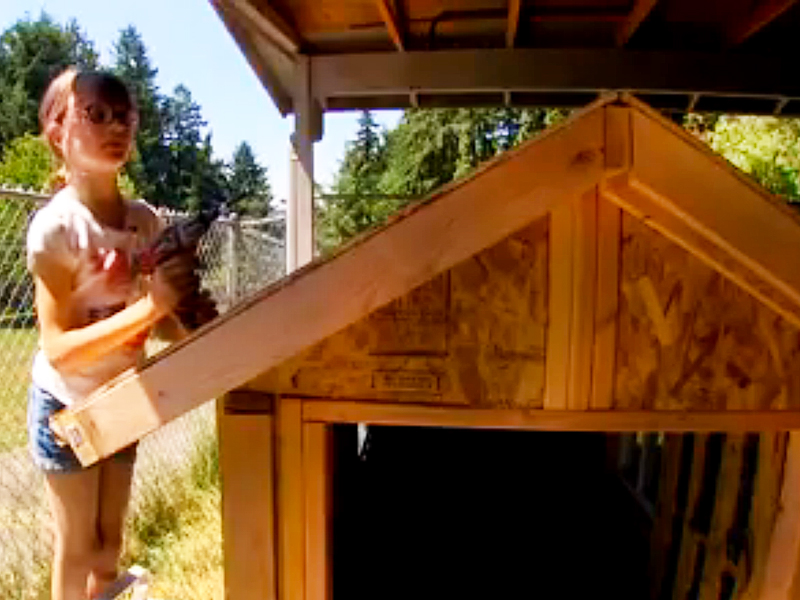 She spotted a man living on the streets in Kitsap County, Washington, and knew she had to do something about it.
Ever since then she's been doing whatever she can, and this year she plans to build 12 mobile shelters.
Hailey's mom says that Hailey "went through all of her homeless friends and made the decision based on a number of things.
It "comes from a place which seems foreign to most but seems completely natural to them." You're awesome, Hailey!!
Fort's work with the food bank inspired her to provide for even more of the basic needs of Kitsap County's homeless community – so the 9-year-old recently started building small shelters by hand. She's begun documenting her progress on a Facebook page "Hailey's Harvest." The homeless, her mom said, are people she counts as her friends. The house will have window curtains, a solar-powered lamp and most importantly, a lock on the front door.