04.12.2014
Two of the 3 are quite restorable with (relatively) little rust, one of the Mk2s is certainly a parts car only.
The other factor that might make this different is that this car is RHD, and has features that indicate that someone had this car was imported to the US. It seems to me that some of the later Mk2 cars were de-optioned and fitted with slim bumpers but still carried "Mk2" badging.
What *might* be more of a problem is whether car number or body number was used on the previous title.
When he bought the car 20 years ago, he thinks it had a European type (wide) license plate on it, so there is some possibility that it wasn't registered in the US at any point. The original drivetrain is in place and looks to be in pretty good condition, so I think I'll see about getting that running.
I know the "U" in the Car number really doesn't make any sense as it should be a J, but kinda strange all around. It has some rust issues, but otherwise complete and nothing that appears to be a deal breaker. Welsh Enterprises offers a large inventory of mesh grilles, chrome trim, shift knobs, mugs & other items.
When focusing on the changes related to Chassis Plates we may conclude that the most apparent change relates to size and orientation of the plates in 1948.
From the launch of the XK 120 in 1948 the plates were larger and had a "horizontal format" with both car data and lubricant recommendations combined on one plate.
This then became the standard format for over a decade, with only a change-over from brass to aluminium in 1957. Note: The Mk V manual contains one photo of a car with the smaller ID plate from the Mk IV era.
The first plate (Type C1) showed a blank box for Price's recommendation for Wheel Hubs lubrication, as was the case with the Type B plate. In October 1953 a number of modifications were made to the text of the Chassis Plate (Type C 4.). This type was introduced in 1957 on the XK 150 and was made of Aluminium instead of Brass as had been the material for all previous types. The basic lay-out was in line with the Type C5 plates, meaning STEERING GEAR and WHEEL HUBS had been combined in one field and the lower row remained blank. In addition some Lubricant suppliers had changed name as well as the names for oils and greases themselves. The chassis plate that followed for the E-type was a plate of larger dimension (6? x 3?"), which is about ? inch wider than the preceding types. If it is in fact a J and not a U (it really looks like a U in person) is this going to complicate matters with the title? View some of our featured items below or use the menu above to find your Jaguar model and browse the accessories for that model. The changes in dimension and lay-out of the plates were mostly the result of changes in available space when new models were introduced, but also due to changing brand names of lubricant suppliers or their respective products.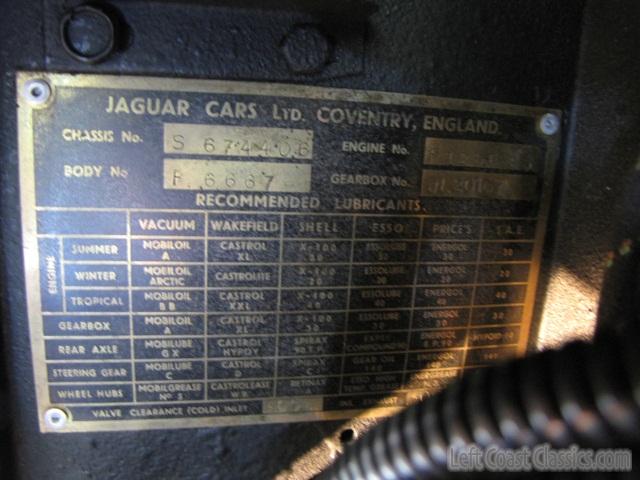 In the years before a smaller brass plate (Type A, 3? x 4″) was vertically positioned containing relevant car data and accompanied by a similarly sized plate containing lubricant recommendations. The initial size of this plate (Type B, 6? x 4?") as used for the Jaguar Mk V, was apparently too large as it was reduced in October 1949 (Type C, 5? x 3?"). Four different Identification plates have been used over the life of the XK 120: C1 to C 4 (with B1 as the fifth variation for the very first XK 120's). This version (Type C2, see here under) lasted for about 6 months from March to August 1952.
These plates are otherwise easily recognisable by the text change in the VALVE CLEARANCE row, reading INLET and EXHAUST instead of the former abbreviations INL.
The lay-out shows only fields for CHASSIS No, ENGINE No and BODY No and is vertically oriented; all later plates have a horizontal orientation. The recommendation from PRICE'S for the WHEEL HUBS was blank. To indicate the VALVE CLEARANCE two new fields have been created to be stamped per car type.