Whenever you look to buy a new 88-key digital piano, there are almost dozens of different parameters to consider in order to find the best value for the money that you're investing.
In this article, we will be your guide and help you navigate this exciting but sometimes tricky journey, as we'll provide you with five instruments that we think are excellent for beginners in an overall attempt to help you discover the best budget digital piano available today.
Before we start, there are a few terms that we must specify to help you better understand how the five products you'll see below were selected and compared. First, since we are looking to suggest the best piano option for beginners, we will only consider entry-level instruments that fall within an approximate price range of $499 and under. We will compare each instrument according to a few requirements, such as the sound engine, the hammer-action keyboard, any available or unique features and the overall value you will receive in distinct contrast to the retail price. The Coda Pro is the new 88-key entry-level piano from Alesis that has replaced the disappointing Cadenza, offering a more convincing mix of options for a retail price of $499. The Alesis Coda Pro ships with a new 88-key hammer-action weighted keyboard, which is now aligned with competitors' quality. Among the other features, the Alesis Coda Pro includes a Lesson mode, a Rhythm section, a Song mode, a USB port, an AUX input, a built-in DSP with several effects, and ships with a music rest and a sustain pedal. If you want to buy the optional furniture-style stand (which includes the three-pedal system), you'll need to add $149 to the investment, for a total price of approximately $650. The Casio PX-150 offers lots of features that you'd usually find in more expensive pianos, while keeping an extremely competitive retail price of $499. One of the pros of the Casio PX-150 is the Tri-sensor Scaled Hammer Action Keyboard II, an 88-key weighted keyboard that allows users to play more repetitions per note, while offering a different weight for the lower, the middle, and the higher zones.
The SP-170S is a revamped version of Korg's entry-level digital piano, which ships in two different finishes (black or white) for the retail price of $499. The Korg SP-170S also lacks some of the useful features you might need, like a USB port or a Lesson or Duet mode, but it does include two headphone outputs and a built-in DSP with reverb and chorus. The piano ships with a music stand and a switch-style sustain pedal, but if you want to buy the optional furniture-style stand and piano-style damper pedal (no three-pedal system is supported), you'll need to add up to $120, for a total price of $619. The Allegro 2 is an evolution of Williams' entry-level piano offering, which has improved a lot from its predecessor and offers a great bunch of features despite an extremely affordable price of only $299.
The piano is obviously far distant from giants like Yamaha and Casio in terms of key-action and sound quality, but it's still a great solution for people that want to spend the least and get a decent product. Its sound engine offers two discrete piano sounds, a few other tones and an 88-key hammer action that is suitable for learning the basics–but not much more apart from that.
The piano ships with no sustain pedal nor AC adaptor, and does not offer any optional stand to turn it in a piece of furniture. One of the best affordable pianos currently available, the P-45 is one of the newer digital pianos from Yamaha (it has replaced the P-35 by adding new features such as a USB port and doubled the amount of polyphony). The P-45 features the renowned AWM Sound Engine with a 64-note maximum polyphony, and the great GHS Graded Hammer Standard keyboard, which has a heavier touch in the lower zone and a lighter touch in the higher zone. Thanks to four different sensitivity levels, you can achieve the ideal responsiveness to match your playing style, a great feature for students that want to learn the basics. The Yamaha P-45 includes a Dual Mode for layering two sounds together, a Duo Mode to split the keyboard into two specular zones (this is really great for teachers and students), but it does lack any kind of Lesson mode for beginners. It ships with a switch-style sustain pedal and music rest, but if you want to transform the piano in a piece of furniture you will have to buy the optional $80 L-85 stand. For its excellent mix of sound, key-action, features and price, the Casio PX-150 (and by default, the Casio PX-160!) is probably the best option currently available in the entry-level digital pianos market. A special mention should be made for the Yamaha P-45, however, which is definitely one of the better instruments in this price range and certainly a very good (and roughly $50 cheaper) alternative to the Casio PX-150. Be sure to bookmark our Digital Piano Review Guide website for more up-to-date information and reviews!
If you have experienced abuse or harassment in connection with either an ad on STClassifieds or an email received from a STClassifieds user, please forward the details and sender's email account provider (eg: Hotmail, Yahoo!) to us.
Never provide financial account numbers, passwords, or other sensitive information through an unknown email. Never click on a link found in an unfamiliar email if you are unsure of its origins, especially if the email asks you for personal financial information.
If you suspect anyone or any ad of attempted fraud, or spot activities by community members that go against our policies, report the issue to STClassifieds immediately. When shopping for your new digital piano, you will often find that brand names have created a reputation for themselves among teachers, industry professionals, beginners and maybe your friends and family. Axus Digital instruments have become increasingly popular with educational establishments and keen beginners alike. For example, if you are looking for a traditional-looking digital piano, the AXD2 may be ideal for you. Korg digital pianos are popular for their simplistic, slim and minimal designs, portability and great quality piano sound and feel.
The great thing about Casio is how much they have expanded their range in the recent years. For a mobile musician, the Privia range models such as PX-150 or PX-350 would be ideal companions on stage and at home. Finally, Casio's traditional digital pianos will not fail to impress even the more experienced pianist and will look great within any household.
Roland pianos are designed to impress even the pickiest of players, delivering robust, industry standard instruments with a very realistic sound and feel.
Even the entry level instruments such as Roland F-20 Digital piano have Roland's SuperNatural piano sound engine that is seen in flagship pianos and provides a very rich, pure and expressive tone that is resembles that of a grand piano.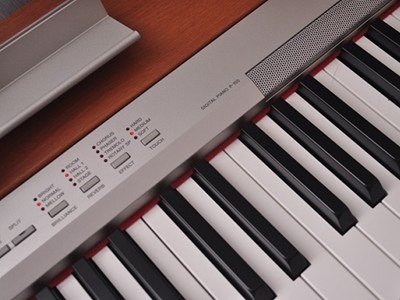 If a cabinet piano is what you are looking for, Roland has some fantastic models such as RP-301SB and the slimmer F-120. Finally, for those of you who are looking for an exceptional performance on stage, the likes of Roland RD-300NX will not fail to impress you. Last but not least, Yamaha has been one of the most consistent brands throughout the years and produce a wide range of instruments from student to professional and industry standard models. Yamaha have some great portable entry level models like P35 and P105 that are perfect starter instruments that will not break the bank and are also very portable and robust with a great piano sound and feel. The ever popular Arius range offers the perfect entry-level pianos that are known for their simplicity and realistic, rich piano sound.
This is topped off with the fabulous YDPV40 model that features an LCD screen and a wide range of voices and sounds, while still maintaining that traditional look and feel.
Moving into the professional range of Yamaha digital pianos, you will find the timeless Clavinova models. The CLP525 and CLP535 are crafted very simplistic sticking to the basics, however, moving on to models like CLP545, CLP575 and CLP585 you will find more refined shapes, more voices and features and even natural wooden keys for an even more expressive performance.
If you are looking for a portable instrument that will still possess the sound and realism of professional digital pianos, Yamaha's P255 Digital stage piano will be the right instrument for you. Diana is the Piano & Strings specialist and looks after blogs and written content here at Normans. Our Meet the Composer graded piano solos are written to give students to best chance for success while maintaining the integrity of the original work. The sound, the key-action, the available features and even the accessories are all very important requirements that you must evaluate before buying.
It features a new sound engine from SONiVOX and AiR, with a great grand piano tone and other 19 voices that you can use in Split and Layer modes. This new keybed offers a more realistic feeling than the previous model, and is a good choice for teachers and students, primarily thanks to the Duet mode, which allows you to split the keyboard into two specular parts for playing together. It features the renowned Multi-dimensional Morphing AiR Sound Source engine from Casio, which ensures a great piano experience thanks to the Damper Resonance and other mechanic emulations, along with a maximum polyphony of 128 notes. The simulated ebony and ivory keys allow users to enjoy somewhat similar feelings to that of an acoustic piano (well, within reason—this is a sub $500 product after all), which is really a great thing for an affordable instrument like this.
This product does not feature as many options as the aforementioned pianos, because the manufacturer chose to focus mainly on the key-action (its NH 88-key Natural Weighted Hammer Action keyboard) and the Stereo Sampling engine. Combined with the NH hammer action keyboard, the resulting experience is great for learning the basics, but not as good as many other products that you may buy with the same amount of money. The piano does include a USB port for MIDI connectivity, a Metronome, and a DSP with few effects to enrich your sounds, but the list of available features ends here. You can buy the optional $29 ESS1 Essential Pack to get a power supply, sustain pedal, and headphones for a total price of approximately $329.
On top of that, the P-45 still manages to maintain the same retail price of the P-35 (which is $499.99). No triple-peddle system is supported, but the half-pedal feature is available by connecting the optional FC-3A damper pedal. It offers a huge piano sound with the highest amount of polyphony, a top-of-the-class hammer action keyboard and very unique and helpful features that make this product not only suitable for beginners, but even intermediates and live musicians. A spoof email will usually lead you to a website and attempt to collect your personal information for committing identity theft or other crimes. We often meet many customers looking for a particular make that they can trust or are more familiar with. While it is not one of the well-known brands, it has proven to be reliable, efficient and money-saving and thus able to compete with more expensive instruments.
It has 88 weighted keys, metronome function, 3 pedals, dual headphone input and a great quality piano sound all wrapped up in a classy rosewood finish cabinet.
It is a portable, lightweight stage piano that will be able to impress even more experienced pianists. They are great for the money-savvy musician who values classic sounds and features, but needs a portable instrument either for saving space at home or gigging. It is priced at a fantastic value, it has an extremely pure and natural piano sound at that price and it even possesses some lovely sounds including electric pianos, harpsichord, organ, strings and more. A lot of people associate Casio with calculators and children's keyboards, however, they have now built a great reputation within the digital piano world. Although it is a portable piano, it can be transformed into a more traditional instrument with the wooden stand.
The 150 model is great for classical sounds and simplicity, whereas, for a little extra the 350 model offers an impressive range of sounds, effects and accompaniment styles for an extremely versatile performance.
The Celviano range pianos like AP-250, AP-450 and AP-650 have a larger cabinet and speakers that create a rich, resonant sound that is also very pure and natural.
Whether it is and entry level digital piano with a cabinet or a professional level stage instrument with a range of features, Roland pianos are extremely reliable and durable. While housing very traditional and practical features, the F-20 is also compact, perfect if you are looking for a space saving instrument that you can take with you on the road. Both of these instruments not only possess fantastic sound quality and feel with SuperNatural piano engine and Ivory Feel keyboard, they are also environmentally friendly with a very low power consumption and Auto Off function. It has an immaculate accuracy of tone and a great piano sound, while featuring a range of sounds, rhythms and effects to expand your creative options. Yamaha has been particularly renowned for their durability and quality that lasts years and even the entry level instruments are able to go the distance with you.
Within the entry level instrument range you will also find DGX650, which brings you the perfect blend of a digital piano and keyboard features combined. Yamaha have recently revamped their Clavinovas and have released the new and improved CLP500 range. They even offer a digital grand piano, which is the CLP565 and the Clavinova range is also available in a variety of colours. It is available with a wooden stand for a more traditional look and has a beautiful tone and feel with a range of features that will not let you down in an on stage performance. She is a singer songwriter, plays piano and speaks 3 languages and, in her spare time, she enjoys travelling as well as blogging about anything musical. Originally titled Grand Marche Chromatique to reflect the use of the chromatic scale throughout the work, he changed the title to Entry of the Gladiators because of his interest in the Roman Empire.
The furniture-style stand is sold separately for $89, while the three-pedal system is available for $79. Sometimes, however, it is good to consider something different as there is a variety of brands that may offer you what you need. With all the basics covered it also has plenty of fun voices and effects to experiment with. With 559 voices and 203 rhythms, it still has a great piano sound, therefore, making it a very versatile instrument suitable for all environments.
This portable instrument is weighted like a natural piano and is very responsive, accurately recreating any musical piece. And deservedly so, as their range of instruments is versatile, of high quality and affordable. The Casio CDP-120 possesses very simplistic features and few sounds, however, it offers a great sound and piano feel, which is vital when you start learning. Weighted, natural action keys have a matte finish that ensures your fingers will not slip during those longer practices. The Arius range consists of YDP142 and YDP162 models and also the YDPS51 that possesses a slimmer, more compact cabinet.
Designed to most accurately replicate the look, sound and feel of an acoustic piano, Yamaha certainly will not fail to impress you with this fantastic range of pianos. I will reveal the top 5 digital piano makers that you can trust and hope this will lead you to the right instrument for you.
Great all rounders for home use and gigging alike, Korg pianos will not let you down in any situation. If you are looking for a digital cabinet piano, but do not have enough space, Privia range models like PX-750 and PX-850 are equivalent to AP-250 and AP-450, but have a very slim design that will save  plenty of space but will not compromise on sound and performance quality. While there are great things about any piano brand, there are several key characteristics that Roland piano dealers are quick to point out. Here are the top benefits of choosing a Roland digital piano:Quality of Construction Roland digital pianos are crafted in such a way that the instrument's not only look excellent, they are built to last forever. Roland digital piano prices may not be as cheap as some companies, but they do provide a great bang for your buck.Roland Digital Piano ReviewsReading through a Roland piano review is a great way to learn more about the instrument. To help you find the best Roland piano keyboard for you, here are six Roland digital piano reviews of the best Roland pianos for sale today:Roland RD-800If you are a serious musician in need of a powerful stage piano then the RD-800 is one of the top choices that you will find.
If you are an advanced musician looking for a stage keyboard that will help you develop your own unique sound then the RD-800 is a powerful choice to consider. Check out our complete reviewRoland RD-64Another great digital piano in the RD line, the RD-64 is the cheaper alternative to the RD-800 that still has plenty of great advantages of its own.
The RD-64 still comes with the powerful SuperNATURAL sound engine, meaning that it is capable of sounding impressively nuanced and realistic.The Ivory-Feel G keyboard has a great responsiveness and feels very close to what you would get if you were playing an acoustic piano. The RD-64 doesn't have quite as many digital effects as the RD-800 and isn't specifically a stage piano, but for over half the price it is still an excellent choice for amateur and professional pianists wanting a great sounding, great playing digital piano that is still light enough to take with them on the go.Roland F-120The Roland F-120 is a great instrument for any level of musician and is one of the company's more affordable upright digital pianos. This affordability makes the F-120 one of the company's most popular choice for beginner pianists. Beyond its reasonable price tag, however, there is plenty more to like about the F-120.The F-120 comes equipped with Roland's SuperNATURAL sound engine and Ivory Feel-G keyboard, both of which give the piano a big edge in how realistic it sounds and feels. The F-120 has an attractive upright design and is available in either satin black or satin white finishes. The F-120 also has a built-in metronome, a recorder, a Twin Piano setting for side-by-side playing, and a headphone jack.
Check out our complete reviewRoland F-20Even more so than the F-120, the Roland F-20 is an extremely affordable piano and is described as the best entry-level digital piano in the company's catalogue. While the F-20's lower price may make it a good choice for beginners, there is nothing amateur about this digital piano.Like all great Roland pianos, the F-20 comes with the company's acclaimed SuperNATURAL sound engine as well as a highly realistic key action provided by the Ivory Feel-G keyboard. The SuperNATURAL sound engine provides plenty of rich detail with each note you play and the Ivory Feel-G keyboard has a great level of responsiveness.It is the digital features, though, that really makes the 300NX great.
Having a great stage piano is all about how many different effects the piano lets you use, and the 300NX has plenty of them.
With 200 onboard rhythm patterns, a wide selection of voices, and onboard effects, including reverb, EQ, chorus, and compression the RD-300NX puts plenty of power at your fingertips for your next performance.